Alert Plus – Berlin Vehicle Incident – June 2022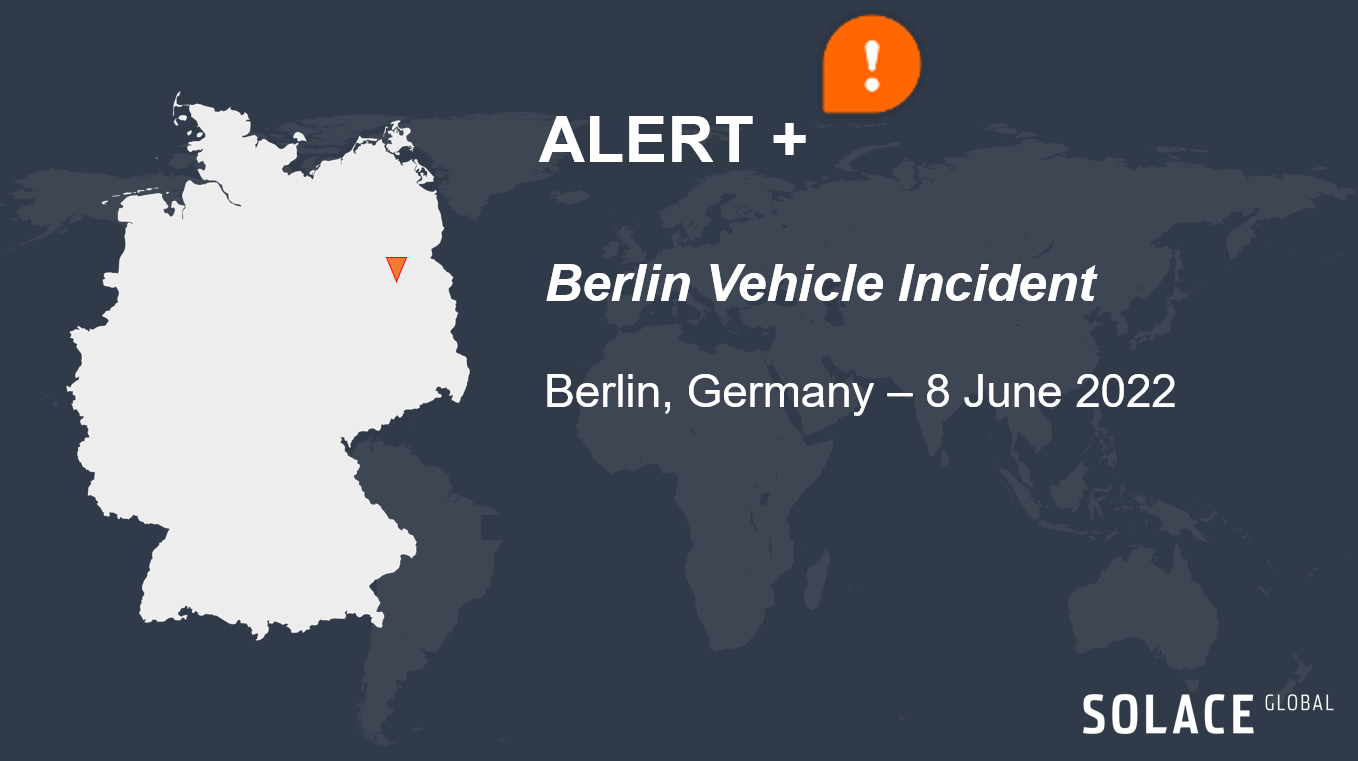 SITUATION SUMMARY
On 8 June at approximately 10:15 local time, a silver Renault Clio vehicle left the road at the corner of Kurfürstendamm and Rankestraße, mounting the pavement and striking pedestrians. The vehicle stopped as it crashed into a Douglas store on Tauentzienstrasse, where it remains at the time of writing. Berlin police have not yet confirmed whether the incident was caused by traffic accident or is being treated as a terrorist attack. The driver however has been arrested. Eyewitnesses have reported several casualties, with the fire department establishing a patient treatment area on the corner of Kurfürstendamm and Rankestraße. Local media are reporting at least one killed and up to 30 injured. Armed police and emergency services remain at the scene, with many roads nearby cordoned off.
SOLACE GLOBAL COMMENT
At time of publishing, there has been no confirmation from authorities that this is a terrorist incident, although it certainly bears all the hallmarks of one. Similarly, no group has yet claimed responsibility for the attack. Vehicle ramming attacks are relatively unsophisticated and do not require a great deal of pre-planning. As such, they have become an increasingly valuable tactic for terrorist organisations operating in Europe – where access to firearms is severely limited and armed police are able to interdict attacks with bladed weapons. Indeed, the Islamic State (IS) group released an audio message in April 2022 announcing a renewed campaign of attacks in response to the killings of the group's leader and spokesman. The message encouraged IS supporters to carry out knife and vehicle ramming attacks specifically, across both the United States and Europe. It therefore remains likely that this represents a lone actor terrorist attack. Recent terrorist attacks in Europe have been conducted by individuals with violent Islamic ideology, extreme right-wing views or by individuals with probable mental health issues. It is noteworthy that this incident has occurred outside of a protestant chapel (Kapelle der Kaiser-Wilhelm), near to the site of the 2016 Christmas Market terror attack – in which an Islamist terrorist drove a truck into a crowded Christmas market. There remains considerable potential for subsequent attacks in the greater Berlin area. The city is a particularly target-rich environment given the abundance of high-value infrastructure and the high population density. Individuals are highly advised to avoid the area and to follow all instructions issued by the police and emergency services at the scene. Be aware of the potential for follow-on attacks.
SOLACE GLOBAL ADVICE
In the event of a terrorist attack those in the area are reminded to RUN – HIDE – TELL – FIGHT.
Terrorists are highly likely to try to carry out attacks across Europe. The possibility of further attacks in the immediate term cannot be ruled out.
Attacks are likely to be indiscriminate, including in crowded areas, government, military and police installations and against personnel, civilians, transportation networks, and high-profile locations.
Areas where large groupings of residents or tourists are known to gather may be at higher risk of attack. You should be particularly vigilant in these areas and follow any specific advice of the local security authorities.
Make sure you are familiar with contact details for the emergency services (in the EU – dial 112).
Travellers are advised to avoid the immediate area of any incident as emergency services remain on the scene to conduct their investigations.
Expect localised travel disruption and an enhanced security force posture in the short term.
Exercise increased caution, remain vigilant, be aware of your surroundings and report any suspicious activity to security personnel as soon as possible.
If caught in the vicinity of a shooting, seek cover from fire immediately and leave the area if safe to do so. Continue to adhere to all instructions issued by authorities and obey the security cordon in place.
Report any suspicious items to the nearest security or police officials.
Monitor the Solace Secure platform and local media for updates.
Solace Global remains available to provide the full range of Travel Risk Management services to clients. Solace Global is also able to provide comprehensive crisis management, response, and evacuation services. For further details please contact 
+44 (0) 1202 308 810
 or 
email us
.