Test your security posture against the latest cyber threats
Cyber security is one of the primary areas of risk for any organisation. A risk assessment will show how susceptible you are to modern-day cyber attack techniques, to help you prioritise improvements in the lowest scoring areas.
Give us 30 minutes for an initial call, and we'll give you a comprehensive written report, risk percentage score and consultative guidance with key stakeholders – completely free of charge.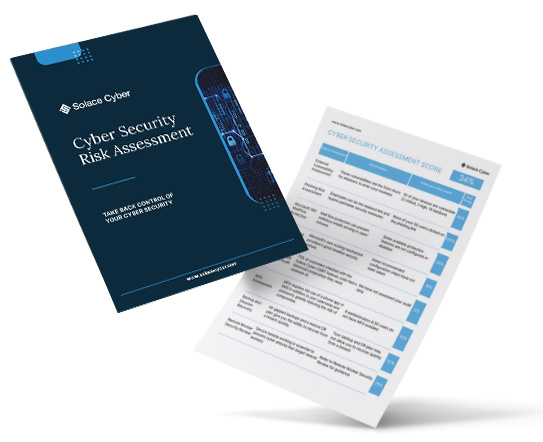 70%
of businesses tested by Solace Cyber's forensic AI code uncover a historic data breach
39%
of businesses have experienced a security breach in the last 12 months
98%
of survey respondents believe cyber security should be C-suite responsibility
Take control of your cyber security strategy
Understand your cyber risks, prioritise a risk-based remediation plan and reduce your chances of a successful cyber attack.
Solace Cyber will assess and provide a risk score for the following key areas:
External Vulnerability Assessment
Identify potential weaknesses as seen by attackers. These vulnerabilities are the front doors for malicious actors to enter your business.
Phishing Risk Assessment
Employees can be the weakest link and bypass perimeter security measures. We test and identify personnel that could be an entry point for a phishing attack.
Microsoft 365 Assessment
A full audit of your Microsoft 365 estate including:
MailFlow protection
M365 Secure Score
Forensic Audit to identify signs of existing compromise
MFA Assessment
Identify user accounts that are without MFA.
Multifactor authentication is now critical to prevent data compromise if account credentials are stolen. This is especially important for accounts with admin privileges.
Backup and Disaster Recovery
A review of your backup and disaster recovery strategy. Understand if your business has effective infrastructure and processes in place, to enable recovery from the likes of ransomware.
Secure Edge and Remote Worker Security
Securing your endpoints both on and off-network is an essential part of any cyber security strategy, particularly if your business adopts a hybrid working model.
This review will review whether adequate policies and endpoint protection is in place, to detect and prevent threats that could compromise the wider corporate network.
Secure remote working is an essential part of any security strategy, to prevent cyber attacks that target those working from home.
Firewall Review
Understand how well your firewalls have been configured to prevent an attack.
9-step cyber security process
Cyber security doesn't need to be complicated. Our specialist team have condensed knowledge gained over the last 25 years from securing businesses from major security breaches and building critical infrastructure, into a simple 9-step strategy.
The cyber risk assessment is the first step to reaching best-practice cyber security.
01
Cyber Risk Assessment
A detailed cyber risk assessment will analyse your risk profile and highlight weaknesses that cyber criminals could exploit. From here we give you a cyber security score and recommendations to bring your cyber security in line with industry best practices.
02
Access to Cyber Security Incident Response Team (CSIRT)
We give your business a mature cyber security incident response plan. Having an advance strategy in place is the best thing you can do to control that risk.
Businesses are often not able to obtain a timely response to cyber attack – we give you the resources to react immediately to a data security breach.
03
Activation of Real-time Risk Platform
Gain access to a free version of Solace Cyber Real-time Risk Platform, developed by our in-house team of cyber security specialists. This acts as an ongoing risk assessment, to display all known risks in a central dashboard, giving you greater visibility of your IT estate.
04
Cyber security recommendations and remediation
After your cyber security risk assessment, we will present the recommendations and suggested actions to improve your security posture. For some of the steps, Solace Cyber will suggest a technical solution which we can provide.
05
Managed Detection & Response (MDR)
MDR is a a highly cost-effective service to protect endpoints which could be vulnerable to exploitation. MDR uses advanced machine learning and AI technology to constantly monitor activity across all devices within your IT estate, with 24/7 support from our UK based security operations centre.
06
Cloud Extended Detection & Response (XDR)
Protect your Cloud identities and applications from compromise. Cloud XDR leverages our Real-time Risk Platform and 24/7 Security Operations Centre to provide a managed threat detection and response security ecosystem around Azure AD.
07
Secure Edge and Remote Worker Security
Mitigate the risk of a data breach from hybrid and remote working and manage your digital perimeter with unified zero trust network access policies.
08
Ransomware Protect & Recover
Often during a ransomware attack the hackers will target backup repositories and encrypt the data, we make it possible to recover your data and get back to business as usual in the event of a cyber attack. 
09
Solace Cyber University – Cyber Awareness Training
End users are typically a weak point in your cyber security perimeter, due to their susceptibility to intelligent and targeted phishing attacks. Solace Cyber University provides an ongoing cyber education and awareness program, to harden your users against phishing attacks.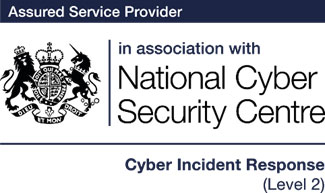 Solace Cyber meets the UK's highest cyber security standards, offering first-class incident response support and recovery.
Get a complimentary cyber risk assessment
Take the first step in spotting security vulnerabilties ahead of time, to maximise your decision space.