Alert Plus – UK Terror Threat – November 2021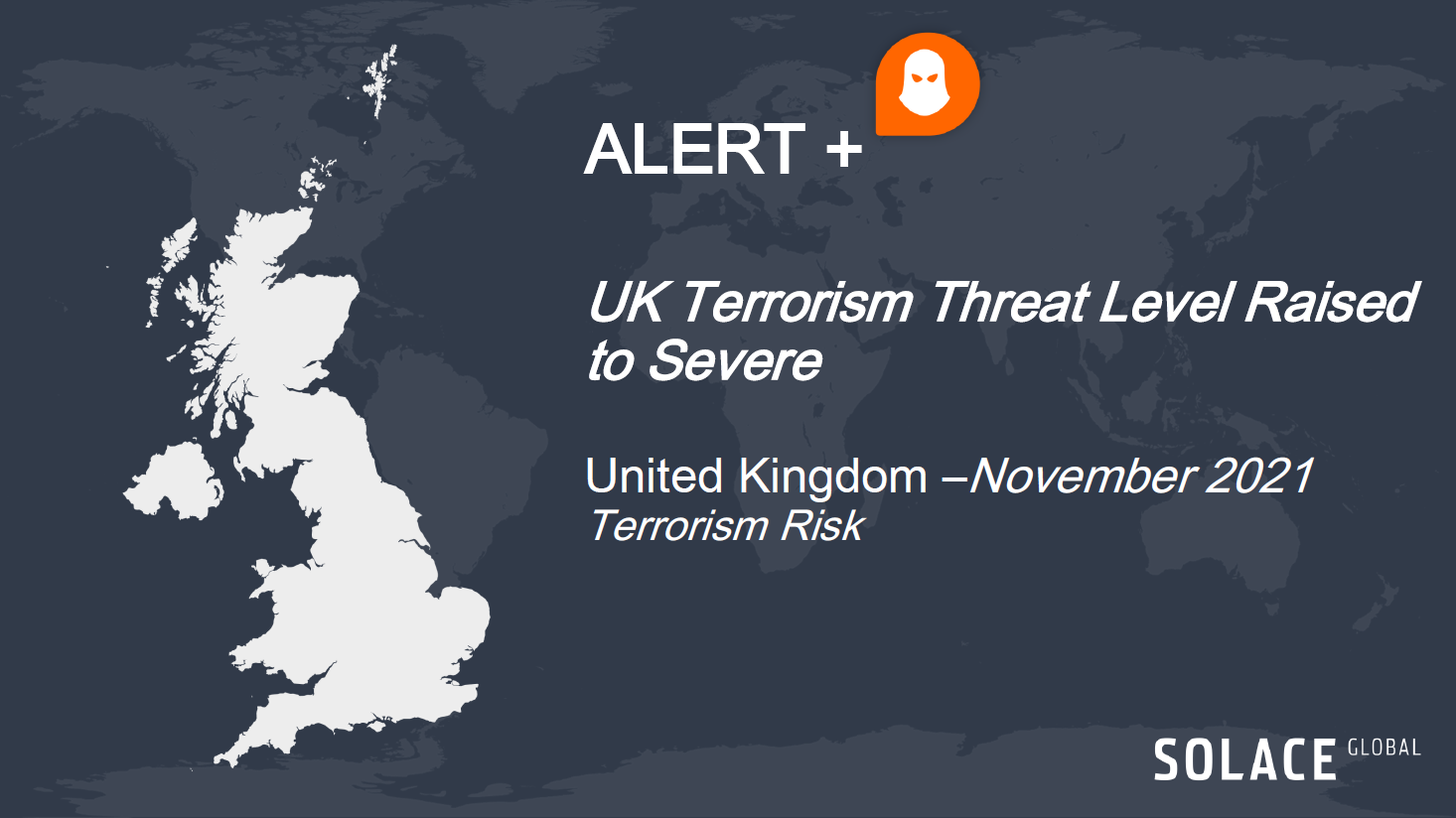 SITUATION SUMMARY
On 15 November, the UK's Joint Terrorism Analysis Centre (JTAC) raised the nationwide terrorism threat level from 'substantial' to 'severe'. A terrorist attack is now regarded as highly likely under the UK's index of threat levels, of which the severe categorisation is the second-highest level of warning.​
Home Secretary Priti Patel confirmed that the JTAC's decision to raise the UK's terrorism threat level had been undertaken in response to two terrorist incidents that had taken place within a span of 31 days between 15 October and 15 November. ​
The most recent of these two incidents occurred on 14 November after 32-year old Emad al-Swealmen detonated an Improvised Explosive Device (IED) in a taxi outside the Liverpool Women's Hospital in Liverpool, Merseyside. The subsequent explosion resulted in the death of Emad al-Swealmen and injured a taxi driver who had managed to successfully flee the vehicle just following the detonation.
Investigations following the incident have led to the arrests of four individuals in Liverpool's Kensington area under the Terrorism Act 2000. Head of Counter Terrorism Policing North West, Russ Jackson, confirmed that all four individuals were suspected to have been associates of Emad al-Swealmen.​
On 15 October, Conservative MP Sir David Amess was stabbed and killed by 25-year old Ali Harbi Ali at a constituency surgery in Leigh-on-Sea, Essex. Police established a connection to radical Islamic extremism as a potential motivation for Ali Harbi Ali's attack, although no definitive judgement has yet been reached by the UK justice system at the time of writing.​
The advice issued by UK authorities in the wake of these incidents has focused on vigilance. Prime Minister Boris Johnson urging all members of the public to maintain a high level of situational awareness as a result of the increase in the UK terror threat level.​
SOLACE GLOBAL COMMENT
Prior to the JTAC's recent announcement, the last time a 'severe' terror threat level was implemented in the UK was between 3 November 2020 and 4 February 2021. The usage of the 'severe' category indicates that there is no existing government intelligence of any immediate risk to life, but that further attacks remain highly likely due to the frequency of attacks in recent weeks.​
Terrorism in the UK has historically been undertaken by a variety of actors, including far-right extremists, dissident Irish nationalist groups and radical Islamists, among others. Of these, the most prominent driver of the current 'severe' terror threat level is the likelihood of further attacks related to Islamist extremism.​
The usage of bladed weapons, homemade IEDs and vehicular-ramming attacks represent a set of common themes across UK terror attacks in the past five years.  The October 2021 attack on Sir David Amess, the November 2021 Liverpool bombing and the August 2018 Westminster attack illustrate these respective threats.
Lone-wolf attacks especially have become more frequent, though it is not uncommon for terrorist attacks in the UK to later be claimed by a terrorist group, or for an attacker to pledge allegiance to an extremist cause in some way prior to an incident. ​
Public venues and high profile political figures such as MPs have regularly been targeted by both successful and would-be assailants. Train stations, music concerts, main city roads and the UK Houses of Parliament are all examples of locations deliberately targeted by terrorists in recent years.​
Though it is impossible for the authorities to prevent every attack of this nature, the British Security Services, MI5, stated that 31 late stage terror plots had been prevented in the past four years. Additionally, as highlighted by the Liverpool attack, police in Britain and other emergency services are able to respond rapidly to attacks and limit their potential to evolve into major mass casualty events.​
​SOLACE GLOBAL ADVICE
Attacks are not uncommon in the UK, as such, similar 

incidents are possible in the future, individuals should 

maintain a  degree of situational awareness when in public.

​

Copycat attacks are also common following an incident of this 

nature, as such, remain aware of surroundings when travelling 

in the country, especially in vicinity of potential targets such as 

government buildings.

​

If caught in an attack, individuals are advised to follow the UK 

counter-terrorism policing advice of 

RUN, HIDE, TELL

.

 

​

Always adhere to any instructions issued by authorities, 

including shelter-in-place orders.

​

Report any suspicious behaviour or activity to the authorities.

​

Expect additional security personnel outside hospitals and an 

increased police presence throughout the United Kingdom in 

the coming days and weeks.

​

Going forward, monitor media outlets for further developments.

​

Follow up police operations are possible in Liverpool and the 

wider country; these may include short notice road closures.

​

Vacate any areas where police, or other security forces 

operations are underway.

​

Always adhere to any instructions issued by authorities, 

including orders to vacate locations and shelter-in-place 

notices.

​

Keep trusted person(s) updated on you location and situation, 

particularly follow an attack.

​

Also look to employ caution around mosques and other 

buildings linked to Islam, such as Arabic schools, due to the 

risk of reprisal attacks by other extremist groups.

​

Despite this, normal travel can resume as long as travellers 

adhere to all COVID-19 restrictions.
Solace Global remains available to provide the full range of Travel Risk Management services to clients. Solace Global is also able to provide comprehensive crisis management, response, and evacuation services. For further details please contact 
+44 (0) 1202 308 810
 or 
email us
. ​