US speaker Nancy Pelosi visits Taiwan
Situation Summary
A delegation of American politicians, including House Speaker and senior Democratic politician Nancy Pelosi, landed at Taipei Shongshan Airport in the Republic of China (ROC, or Taiwan) on 2 August. The visit to Taiwan comes amidst an ongoing tour of the Asia-Pacific by the high-profile delegation, which has been conducted for the purpose of reaffirming American commitments to the region. Countries such as Singapore, Malaysia, South Korea, and Japan were included on the official itinerary list, but the visit to Taiwan was hidden, likely out of concerns that any official confirmation would prompt a harsh response from the People's Republic of China (PRC, or China).
Intelligence suggesting that Nancy Pelosi would visit Taiwan prompted a series of warnings from the Chinese government and state media broadcasters. China warned that any visit to Taiwan would be considered as a provocation that would necessitate a diplomatic and, in some communications, military response from Chinese authorities. Speculation of Nancy Pelosi's visit prompted China to engage in aggressive military maneuvers in the Taiwan Strait during the morning of 2 August, including the positioning of warships and aircraft along the contested Median Line. A Distributed Denial-of-Service (DDoS) attack was later recorded against the website of Taiwan's presidential office.
Four US Navy warships, including the USS Ronald Reagan aircraft carrier and the USS Tripoli amphibious assault ship, have been operating east of Taiwan. US officials have stressed that their positioning was prompted by a "routine deployment", but US military authorities remain on high alert due to the increased risk of miscommunication and miscalculation stemming from the elevated number of both US and Chinese military assets in the region.
In response, Chinese authorities announced three-day military drills will commence near Taiwan from 4 August.
Solace Global Comment
Nancy Pelosi's visit to Taiwan represents the most senior visit by a US official since the visit of House Speaker and Republican politician Newt Gingrich to Taipei in 1997. Newt Gingrich's visit prompted irritation within China but was tolerated at the time. Since 1997, however, China's role in the global economy has grown exponentially, and China has begun to exercise a more assertive role in both regional and global diplomacy. There is now an increased willingness within the Chinese government to adopt a more hawkish stance towards Taiwan, which is actively considered to be one of China's core national interests, alongside increasingly bellicose rhetoric regarding reunification.
Taiwanese self-governance and the perception of Taiwan as an integral territory of China has prompted the Chinese government to enforce a 'One China' policy in its global relations; a practice which the US has acknowledged since President Richard Nixon's decision to thaw relations between the US and China in 1972. Despite this, the incumbent Chinese Foreign Minister Wang Yi has accused US President Joe Biden of conducting a "fake" One China policy, and Chinese President Xi Jinping has warned the US "not to play with fire" over the legal and diplomatic status of Taiwan.
Although an invasion of Taiwan remains highly unlikely in the near-term due to the complexity of an amphibious assault across the Taiwan Strait, geopolitical and economic impact, and the potential for US involvement in the conflict, Nancy Pelosi's visit is certain to escalate tensions further and will very likely lead to an increased Chinese military presence in the region over the coming weeks. Chinese officials have likely calculated that there is a need to reassert Chinese credibility over their red lines in Taiwan, given the current trajectory of US-Taiwan relations. A further military response remains realistically possible, such as live-fire exercises, significant naval and aerial posturing off Taiwan, or potentially missile tests in the vicinity of the Taiwan Strait. A Taiwanese response should be anticipated, and the potential for miscalculation should not be ruled out. China may also seek to conduct retaliatory actions towards the US through economic levers.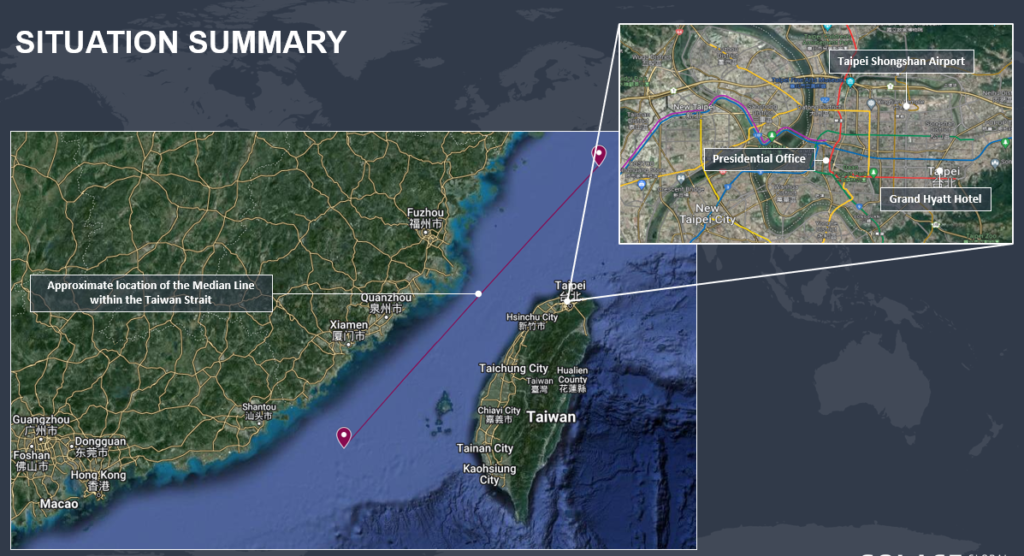 Solace Global Advice
•In the event of a significant security development, travellers in Taiwan should follow any instructions issued by the Taiwanese government.
•Political tensions may disrupt airspace in both China and Taiwan. It is advised to monitor flight information and check with your travel provider if you are unsure of the status of your flight.
•Instances of civil unrest within Taiwan cannot be ruled out. Travellers should avoid all demonstrations and large public gatherings as they may escalate quickly and without warning.
•Areas where political figures are known to gather are likely to be focal points for political activism and unrest, especially sites due to be attended by Nancy Pelosi or other delegates. You should be particularly vigilant in these areas and follow any specific advice from the local security authorities.
•Expect localised travel disruption and an enhanced security force posture in the short-term as Taiwanese authorities increase measures to protect the US delegation.
• Be aware that China may seek to retaliate for Nancy Pelosi's visit within the economic, cyber, and diplomatic domains, which could place additional restrictions on business operations and travel within China, Taiwan, and the wider region.
• Make sure you are familiar with contact details for the emergency services (in Taiwan – dial 110 for the police, 119 for medical assistance or the fire brigade).
• Exercise increased caution, remain vigilant, be aware of your surroundings and report any suspicious activity to security personnel as soon as possible.
• If caught in the vicinity of a security incident, seek shelter immediately and leave the area if safe to do so. Continue to adhere to all instructions issued by authorities and obey the security cordon in place.
• Report any suspicious items and behaviours to the nearest security or police officials.
• Monitor the Solace Secure platform and local media for updates.
---
Understand the situation with bespoke intelligence
Be in the know with intelligence reports built directly around your operational requirements.