Crisis Management: Rapid response to Beirut explosion before mainstream media reporting
On the 4th August 2020 an explosion devastated Beirut, killing at least 220 people, injuring more than 6,000 and displacing over 300,000.
In the immediate aftermath of the explosion, Solace Global Risk, a leading provider of risk management solutions, identified the explosion before mainstream media, to promptly make security managers aware and confirm the safety of travellers within Beirut during this critical time.
Through our security operations centre and risk management platform Solace Secure, we were able to pinpoint the exact whereabouts of clients in-country and provide them with specialist guidance to ensure they remain safe in a crisis.
Speak to a Travel Risk Management Specialist
---
Proactive Travel Risk Management: Reassurance and Continuous Updates
The dedicated 24/7 crisis response team played a crucial role in providing reassurance to affected travellers and their line managers located elsewhere. Through our efficient communication channels, we informed them that their staff members in-country were accounted for and safe while adhering to the pre-agreed client protocols. Furthermore, we ensured continuous updates on the evolving situation, keeping all stakeholders well-informed throughout the crisis.
Utilising travel data to mitigate risk in a crisis
Our assistance extended beyond those affected by the disruption in Beirut. Through travel data feeds integrated into Solace Secure, all travellers with planned itineraries towards Beirut were contacted so travel plans could be amended to avoid arriving into a country that could be affected by civil unrest or further security incidents.
For travellers that were unable to defer travel, additional support was provided with Journey Management, ensuring a safe transition that was not disrupted by affected areas as they reached their destinations. Furthermore, for those already in-country, we facilitated their relocation to secure locations outside the city, minimising exposure to potential risks.
Verified Risk Intelligence: Timely and Actionable Alerts
As seasoned risk professionals, we understand the importance of providing timely information to our clients. Throughout the crisis, we consistently shared intelligence alerts through Solace Secure, our user tracking and risk intelligence platform. These alerts contained key updates on the situation, often delivered at least an hour before the information reached the mainstream media. By doing so, we ensured that our clients were equipped with accurate and up-to-date information, enabling them to make informed decisions.
Supporting security managers with preemptive risk mitigation measures
One of our core strengths lies in preemptive risk mitigation. Even before the situation reached the attention of mainstream media, Solace proactively posted frequent intelligence alerts on Solace Secure. This allowed our clients to stay ahead of potential threats, enabling them to take necessary precautions and make informed choices for the safety of their personnel. Our commitment to providing timely information ensures that our clients can respond effectively to crises and minimise risks.
During this challenging time, clients commended the operations teams for their expertise in crisis management, travel risk management, and operational risk management.
Solace Secure Risk Alerting: One step ahead of mainstream media
15.55 GMT
First Explosion
First explosion at Beirut port occurs, the initial blast was smaller in size and attended by local fire crews.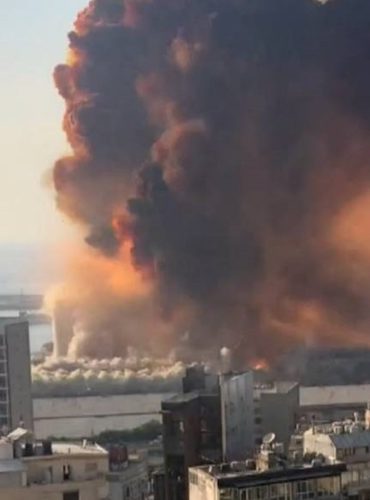 16.08 GMT
Second Explosion
The second explosion and most powerful blast, takes place killing at least 220 people, injuring more than 6000 and displacing around 300,000.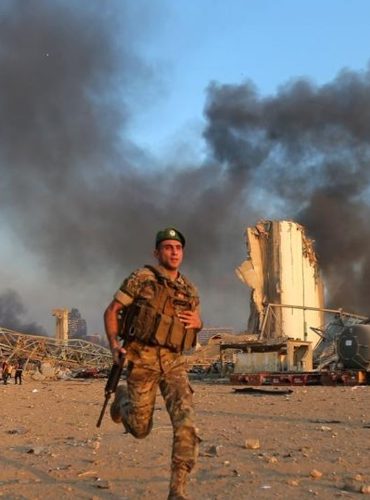 16.11 GMT
First SOS received from travelling personnel
Solace response team made immediate contact with 2 travellers following an SOS via Solace Secure app, located 1.36km and 5.19lm from the blast. Their safety was confirmed by crisis response team.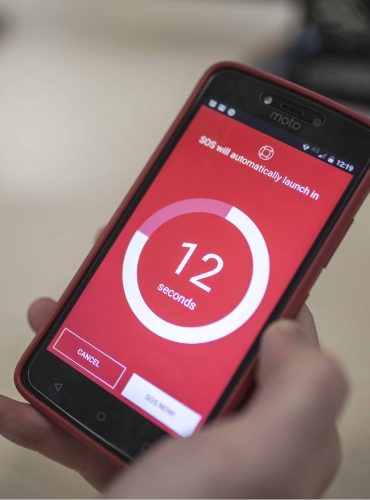 16.18 GMT
Contact made with points of contact
Martin Veale, Operations Director for Solace Global Risk, made contact with points of contact to inform them of SOS received by their travelling staff.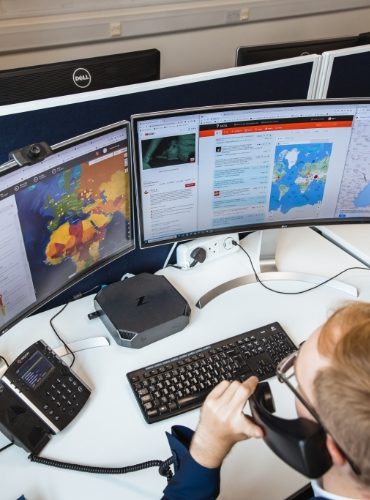 16.19 GMT
Severe intelligence alert published
First severe intelligence alert is verified and published in Solace Secure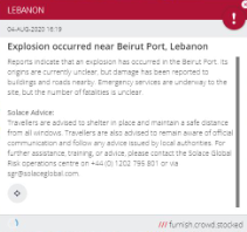 16.43 GMT
First reporting by local press about incident
Daily Star Lebanon share their first tweet about the explosion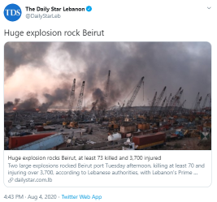 17.06 GMT
First reporting by BBC Breaking News
The BBC share their first tweet reporting on the blast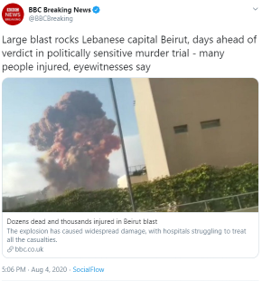 Security services to support your Duty of Care
Through our comprehensive risk management solutions, we provided vital advice, reassurance, continuous updates, and support for those in-country and security managers. All travelling staff were accounted for quickly and all points of contact were notified of their safety and kept up to date with summary reports. By delivering timely and actionable alerts, our clients could mitigate risk and make informed decisions.
Speak to us about your operational risk management