Tropical Cyclone Fani
9 May 2019
After gaining strength for several days over the Bay of Bengal, Tropical Cyclone Fani made landfall near Puri, Odisha State (India) during the early hours local time on 3 May.
Key Points
After gaining strength for several days over the Bay of Bengal, Tropical Cyclone Fani made landfall near Puri, Odisha State (India) during the early hours local time on 3 May.
Tens of millions of people were located in the cyclone's path; with more than a million being evacuated from coastal areas to cyclone shelters prior to the storm's arrival.
As of 8 May, 62 people are reported to have been killed in India and a further 17 people in Bangladesh with Odisha State being the most heavily affected by the passage of the Tropical Cyclone.
Situation Summary
Cyclone Fani made landfall near Puri in Odisha State between approximately 08:00 and 10:00 local time on 3 May. The authorities mobilised to evacuate more than a million people from coastal and low-lying communities in the hours leading up to the impact. Evacuation orders were also given to the neighbouring West Bengal district; as well as northern Bangladesh. This evacuation operation was, according to official figures, the largest in India's history. Storm preparation measures were put in place; Kolkata airport was temporarily shut down and over 100 trains were cancelled, more than 850 emergency shelters were opened, and additional emergency responders deployed across the state and in Bhubaneswar, the capital of Odisha.
At landfall, Fani was classified as an extremely severe cyclonic storm, a Category 4 hurricane on the Saffir-Simpson scale, with winds gusting at more than 118 kilometres per hour with Odisha State, notably the districts of Puri and Khurda, being the worst impacted. Local authorities reported extensive damage to buildings and critical infrastructure; fallen trees and power lines obstructed roads and damaged the communication network, significantly hindering the recovery operations. With damage also being reported to Bhubaneswar's airport. Further west in India, torrential rain and flooding affected the areas of Barsana and Mathura in Uttar Pradesh State as well as Bharatpur in eastern Rajasthan State.
Several hours after it made landfall, Tropical Cyclone Fani was downgraded to an "extremely severe" storm. By approximately 23:30 local time on 3 May, the storm's centre had made its way to about 90 miles southwest of Kolkata; moving northeast toward Bangladesh. The Bangladesh authorities had ordered the evacuation of 19 coastal districts to emergency shelters in preparation for the storm's arrival. Once the storm reached Bangladesh, the districts of Patuakhali, Bagerhat, Bhola and Satkhira were among the worst impacted by storm surges; triggering major damage to buildings. Finally, the storm crossed the Sylhet and Mymensingh regions, leaving Bangladesh and dissipating.
As of 8 May, official reports indicate that Tropical Cyclone Fani killed 62 people in India and at least 17 in central Bangladesh.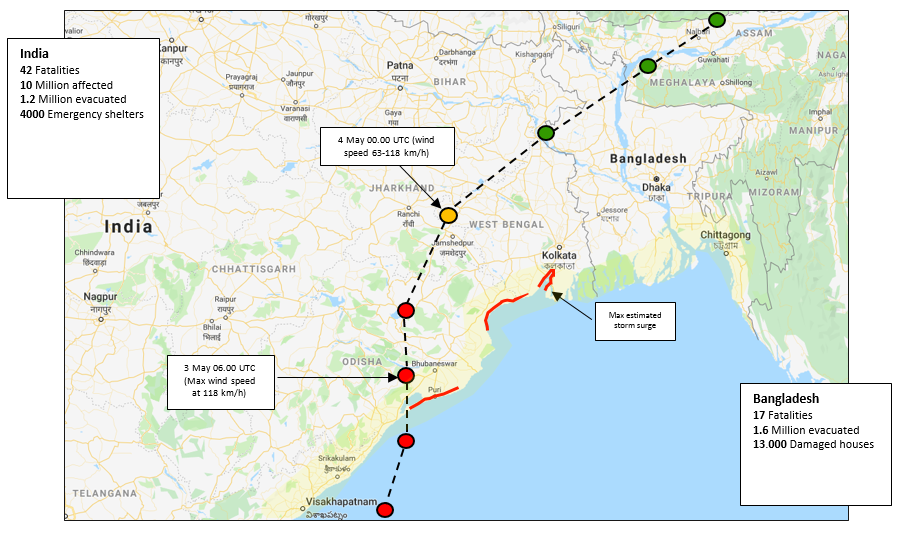 Solace Global Comment
Tropical Cyclone Fani was one of the strongest storms to hit the Indian subcontinent in the last decade. Unlike the Atlantic hurricane season, the North Indian Ocean season has no official start and end; most tropical cyclones in this region form in two main periods: April to June and October to November. While cyclones threaten India and Bangladesh on a yearly basis, their strength and impact are being magnified by climate change and the rising sea water levels in the Bay of Bengal.
The damage caused by these cyclones is often significant. Despite this, researchers believe that due to better weather predictions, early warning systems, and disaster management strategies the loss of life is a decreasing trend. This is demonstrated by the fact that that thirteen days before Fani made landfall in Odisha State, the India Meteorological Department (IMD) successfully identified the low-pressure system in the Bay of Bengal as the initial stage of a formation of a cyclone. Weather data was processed under cyclone tracking models in order to predict its path. Considering Fani's severity, the early evacuation of 1 million people in India and 1.6 million in Bangladesh averted a higher number of casualties. Using a variety of communication methods such as radio and loudspeaker messages, disaster relief agencies promptly informed the public of the imminent danger, highlighting the importance of a well-structured disaster preparedness system.
SECURITY ADVICE
Environment
High
Intense weather events affect a number of regions across the world and present a particular challenge to people's safety. By following critical security measures and advice, their impact can be mitigated.
Download Full Report
Please fill out form below to access the full report