Key Points
South Korea has proposed talks with North Korea for 09 January 2017.
The talks are due to cover North Korea's possible involvement in the Pyeongchang Winter Olympics due to begin on 09 February 2017.
The proposal comes after President Kim said in his New Year's Day message, that he was open to dialogue with South Korea.
SITUATIONAL SUMMARY
Political: On 02 January 2017, the South Korean government proposed high-level discussions with North Korea. The talks would ostensibly cover the issue of North Korea's involvement in the 2018 Olympic Games, which are due to take place in Pyeongchang and Gangneung, South Korea, from 09 February 2017. Seoul has proposed that the talks should take place on 09 January 2017 at Panmunjom, known as the "truce village" on the North-South border. South Korea's government made this proposal on the back of a New Year's Day message from North Korea's President Kim in which he stated, "North Korea's participation in the Winter Games will be a good opportunity to show unity of the people and we wish the Games will be a success," and "Officials from the two Koreas may urgently meet to discuss the possibility."
solace global comment
Seoul has leaped upon the potential olive branch from President Kim and the suggestion that he was "open to dialogue". South Korea's leadership have feared the potential for North Korean attacks (both conventional and cyber) or military tests during the Games. They recognise that if North Korea participates in Pyeongchang 2018, then the potential for the above is decreased. North Korea's involvement has been seen as an increasingly urgent goal given the proximity of the Games (which are due to begin to begin in just over a month) and the official barring of Russian attendance due to state-sponsored doping. Russia is probably North Korea's most important political and economic partner after China; the attendance of Chinese and Russian athletes at the Winter Olympics also reduces the potential for attack during that period. The figure skating pair of Ryom Tae Ok and Kim Ju Sik are the only confirmed North Korean qualifiers for the 2018 Games. Their qualification was assured in September 2017, but North Korean authorities failed to confirm their attendance by the deadline in the following month. Therefore, the ability of North Korea to send a team to the Games remains in question. It is likely, however, that flexibility will be employed to ensure the attendance of North Korea, due to reasons stated above. The figure skaters would require an invitation from the International Olympic Committee. South Korea will also hope that a reduction in tensions, even if only temporary, will see an uptake in the purchase of tickets to events which have been sluggish up to this point.
In the longer term, commentators are analysing what President Kim's New Year's Day message means. In the speech, Kim also suggested that North Korean missiles could now strike any target in the continental United States and that a nuclear launch button is "always on my table". This, alongside his recent rhetoric, makes his openness to dialogue with Seoul a large surprise. Are the newest set of sanctions, which target oil imports, punishing Pyongyang to the extent it wants to come to the negotiating table? Is President Kim concerned by President Trump's hardline position and the recent threat of limited strikes by the US on North Korea? Or is South Korea's President Moon Jae-in's approach, which proposes more engagement with Pyongyang, having the desired impact (as commentators suggest the 'Sunshine Policy' did after the turn of the Millennium)?
Another important question to ask is where does the United States sit in this? President Tump has taken a hardline view on North Korean militarisation and has played down the potential for a diplomatic solution. Trump even went as far as publicly criticising his Secretary of State Rex Tillerson for attempting to open diplomatic channels with Pyongyang. The longer-term success of these proposed talks and regional de-escalation will depend on Washington and President Trump particularly. It has been suggested that President Kim may be using the proposal of these talks to help divide the US and South Korea; the relationship of these two allies has seen some tension since Presidents Trump and Moon rose to leadership in their respective nations. Increasing division in the Seoul-Washington alliance may prove to be a shrewd political move for the maintenance of the regime in Pyongyang.
President Moon has described the offer from North Korea as a 'groundbreaking' chance to improve relations. Indeed, for months, the political leadership in Seoul and Olympic organisers have talked up the possibility of using the Games to improve relations on the Korean Peninsula and describing the event as the 'Peace' Games. Seoul will look to this olive branch from Kim as a way of not only ensuring North Korea's involvement at the Olympics but also a building block on which to improve post-Games relations and downgrade regional tensions.
However, optimism should be tempered somewhat. North Korea have yet to accept the proposal for talks and given the escalation of military tests and rhetoric in 2017, any talks which do occur may prove unsuccessful. There are a number of issues which will have to be clarified if North Korea is to attend Pyeongchang 2018, beside those alluded to above. It is noteworthy that the last set of high-level talks in December 2015 at the Kaesong joint industrial zone, did not bring about any agreements. Proposed talks in July 2017 did not even end up taking place. The success of these talks may depend on planned US-South Korea military exercises in the Spring of 2018, which are due to overlap with the Olympic Games. Pyongyang views these exercises as planning by the US and South Korea for invasion.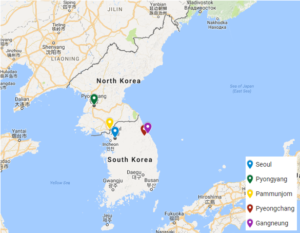 SECURITY ADVICE
Travel
Moderate
While this proposal of talks is positive, it is unclear what impact they will have in the medium- to long-term. Those planning travel to the 2018 Games are advised to remain updated on regional developments. However, at present, it is not considered necessary to delay any planned travel due to regional tensions.
Solace Global would not advise clients of the need to employ enhanced security measures when visiting South Korea. Aside the threat of attack from North Korea, South Korea remains incredibly secure with a low risk of crime, civil unrest, and terrorism. However, it is important to remain vigilant, maintain situational awareness, and employ sensible security precautions at all times, especially in crowded areas.
Clients are advised that Solace Global is able to provide a full suite of travel risk management services including detailed threat assessment and intelligence products for any travel to South Korea during the Winter Olympics and beyond. For further information on this, please contact info@localhost.