Security for media reporters in conflict zones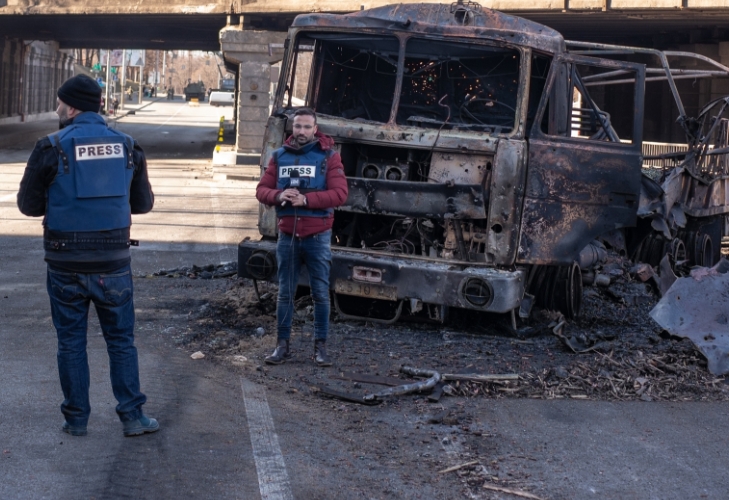 Security for media reporters in conflict zones
Is enough being done in Ukraine?
Concern for the safety of press representatives has been growing, following a number of journalists becoming seriously or fatally injured while reporting on the conflict in Ukraine.
Ensuring the safety of film crews is particularly important when operating in countries such as Ukraine, that are deemed severe risk or an active conflict zone. Journalism plays an important part in conflict zones to report a true reflection of the reality within the crisis, however this comes with many associated risks while operating in-country.
Serious attacks further highlight the importance of duty of care to protect media representatives whilst working in the field, and reiterate the importance for employers with the possibility of reputational damage and legal action being taken, if the victims feel that duty of care has been compromised.
Duty of care is the moral and legal responsibility of an employer to ensure the health, safety and security of a person is protected while working. Should an incident occur, the company will have to demonstrate that adequate measures were in place to protect the employee from harm.
Serious incidents affecting reporters
Despite international obligations to guarantee the safety of reporters in the field, Antony Blinken, US secretary of state said that the US is "looking very hard" at whether Russia is "deliberately" targeting journalists covering the war in Ukraine, after there have been a number of serious attacks on reporters, with accounts that Russian forces have been firing on journalists, despite white flags and press markings being displayed.
On February 28th 2022 the Sky news team were ambushed by a Russian Reconnaissance squad outside of Kyiv, and wounded by taking ammunition to their body armour. The media crew were shortly evacuated out of Ukraine following the attack.
On March 16th 2022 reports emerged that a Fox news cameraman Pierre Zakrzewski and Oleksandra Kuvshinova, a Ukrainian journalist, had been killed by an artillery shelling by Russian troopsnear Kyiv. Zakrzewski was experienced in operating in wars in Iraq, Afghanistan and Syria. This followed the news on March 13th 2022 that American film-maker Brent Renaud was reportedly killed by Russian forces in Ukraine, despite also having many years' experience of working within warzones in Iraq and Afghanistan.
UNESCO has released a statement in light of the recent attacks to help protect journalists in Ukraine and provide 125 sets of body armour as well as additional training on hostile environments. Audrey Azoulay, Director-General of UNESCO announced that journalists are "risking their lives in Ukraine to provide life-saving information to local populations and inform the world of the reality of this war."
Keeping media crews safe when on the ground can be challenging, especially when operating in fast-moving and hostile environments. Reporters can also overlook health and safety guidance by entering areas of extreme risk, either unknowingly, or by wanting to get to the centre of the conflict to show a true reflection of the situation.
Security measures to support your duty of care
Access trusted intelligence
Working within a conflict zone often causes heightened stress and can impact mental health, thus making decisions about safety more difficult. Giving media teams access to a constant feed of credible intelligencem can help users make well-informed decisions based on the most recent developments within the country.
Ensuring that the intelligence is up to date, relevant and from trusted sources also forms part of an employer's due diligence and duty of care to safeguard employees.
Support from risk management technology
Access to risk management technology such as Solace Secure can provide reassurance to media representatives working in-country and can play a part in helping you meet your duty of care to employees by providing access to 24/7/365 crisis response, key intelligence based on their location, and facilitating regular check-ins to ensure staff are safe and well. Consider integrating GPS devices into such platforms to ensure coverage is available if phone or internet signal becomes interrupted.
Additional security for working in-country
Regardless of how much experience media personnel have from working in war zones, it is advisable to instruct a travel risk management supplier that has on-the-ground security support, with close protection officers and, where applicable, armoured vehicles to increase security while in transit.
Have an evacuation strategy
A location that is deemed lower-risk within Ukraine can rapidly change due to unexpected military attacks and air strikes, so having a clear evacuation strategy can save time when decisions need to be made quickly. Giving reporters in the field access to a 24/7/365 security operations centre means that in times of crisis there is no delay in requesting help, particularly when points of contact that may be in a different time zone or unavailable.
Advice for media representatives that are within an occupied territory and trying to evacuate.
If possible, find the closest unit of Ukrainian defence forces
Raise your hands and state loudly that you are from the press
Notify others that you do not speak Ukrainian
Listen closely to the commands from military personnel
Do not make sudden moves or put your hands in pockets for ID
Keep your ID in an easy to access place
Remain as calm as possible
Be prepared to show your identification papers, media representative ID and/or
accreditation from the Armed Forces of Ukraine, at the request of military personnel
Global conflict zone security considerations
Although the Ukraine conflict is the current focus for many international media organisations, the risks posed to media personnel from instability and war are not limited by geography.
Journalists are critical to providing timely and accurate crisis reporting, whether that is a natural disaster in Asia, narcotrafficking and cartel violence in Central America, coups and civil unrest in West Africa, or the intercontinental spread of violent extremism. Covering these stories is an inherently dangerous endeavour and as such, every precaution should be taken to safeguard the welfare of press, media and film crews regardless of the situation in which they are operating.
Having a trusted risk management partner such as Solace Global Risk is therefore central to ensuring that the duty of care is met and the wellbeing of staff is preserved at all times.
Talk to us about securing your global operations