As nations consider the ongoing economic and social damage that has been caused by lockdowns, and the increasing cost of measures designed to prevent mass unemployment, many have begun to ease the strictest social distancing measures in order to allow some form of economic activity to resume. Key to these considerations is that economic malaise in itself can trigger a general decline in public health and therefore increase excess deaths. This effect likely being pronounced in less developed nations where a large proportion of workers are employed in the informal economy.
Additionally, there will also be a cost in lives resulting from the rebalancing of healthcare systems away from routine treatments in favour of treating COVID-19 patients, as well as the reluctance of people suffering the symptoms of other serious conditions to present themselves at medical facilities.
Governments seeking to ease social distancing measures, which have been extremely successful in slowing transmission of the virus, are generally striving to achieve a balance between suppressing the virus and allowing economic activity to resume in order to both keep COVID-19 deaths to a minimum and avoid excess deaths due to poor public health and economic decline in the coming years.
It is worth noting that while lockdown measures across the world were introduced as a matter of scientific imperative, with little opposition, the way countries emerge from their individual lockdowns has been more political. Polling in a number of countries has indicated that the previously observed 'rally round the flag' effect, where governments saw high approval ratings, has now begun to recede as administrations revert to their political and economic ideologies to chart a course out of lockdowns, as a sense of "fatigue" sets in among the general public who are seeing much of their liberties curtailed. This in turn has brought about the return of traditional oppositional politics.
The continued decisions on how to ease lockdown measures in the near term will likely be based on the basic reproduction number, commonly known as the R number or R nought (R0). This is an epidemiological term referring to the expected number of cases directly generated by one case in a population where all individuals are susceptible to infection. If the R number is above 1 then each infected individual is expected to infect, on average, more than one other person, therefore ensuring the continued growth in the number of active cases within the population.
It is believed that, without significant intervention, the R number of COVID-19 lies between 2.5 and 4, meaning that each case generates between 2.5 and 4 new cases. Government interventions in many countries in recent months have succeeded bringing the R number below 1, meaning that each case, on average, generates less than one new case, thus decreasing the overall number of active cases and controlling the spread of the outbreak. As such, governments are currently considering which restrictions can be eased without pushing the R number above 1.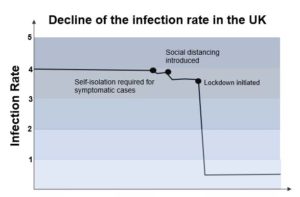 The importance of consistently keeping R below 1 to avoid a damaging resurgence of the virus cannot be overstated. Indeed, German Chancellor Angela Merkel has indicated that a sustained R number of just 1.1 would result in there being more patients requiring intensive care than available beds in around 4-5 months in the country.
Officials will be aware of the experience of the Japanese island prefecture of Hokkaido, which, after successfully suppressing the virus, removed almost all restrictions and subsequently saw a resurgence in the virus that was more severe that the initial peak. Hokkaido was then forced to reimpose a second lockdown after just three weeks. Many governments are keen to avoid having to impose such actions on their countries.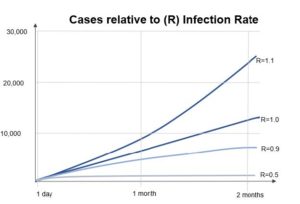 This requires an amount of flexibility from governments. For example, South Korea, a relative success story of the outbreak has not been without its own setbacks. The government has combined an aggressive testing regime, a robust track and trace system and a slow, multi-phased winding down of restrictions to reopen its economy. This approach has shown some initial success; however, some restrictions had to be re-imposed following a number of new cases linked to Seoul's nightlife scene. Additionally, more recently, hundreds of schools have also had to close just days after reopening following a spike in cases. Despite this, and more importantly, this demonstrates the government as responsive as it remains guarded against a second wave of the virus and has measures in place, such as mandatory 14-day quarantines for those entering the country, in an effort to prevent a large-scale re-emergence of the virus.
The majority of world leaders appear to favour a gradual easing of lockdown measures, similar to South Korea, with perceived lower risk actions, such as allowing younger children to attend school a first step. A slow, multi-stage easing of lockdown measures based on both the R number and the calculated prevalence of the virus in the general public does also, crucially, have the support of much of the scientific community when combined with a high-capacity test and trace system. The support of the scientific community is seen as vital for securing the confidence of a nervous general public, who may be reluctant to return to work if they perceive their personal health and safety to be at risk. Additionally, many economists have opined that having to reimpose harsh lockdown restrictions following a period of easing would likely possibly trigger a loss in business confidence, investor flight and significant economic damage.
In short, nations that take a cautious approach to reopening their economies following a sustained suppression of the virus are more likely to prevent a resurgence in the virus and therefore fare better economically in the short to medium term. It is, however, also likely that nations will see a rise in COVID-19 cases as restrictions are eased. Governments are for the most part looking to the development of mass testing and contact tracing infrastructures in order to suppress localised infection clusters and therefore avoid the reposition of blanket lockdown measures.