President Joe Biden's first 100 days have arguably been quite successful. The vaccine drive, started under his predecessor, has continued with over 100 million Americans having now been vaccinated. A 1.9 trillion USD economy recovery act has also been passed and work is underway to try and address the reasons for the divides in American society. For Biden, these domestic policies are vital to American foreign policy and soft power. Without them, US foreign policy cannot be a success. The most poignant example being America's leadership in the fight against COVID-19. The US domestic successes in vaccine programmes, alongside other moves, will help the US credibly regain leadership in global health following the poor initial reaction to the pandemic.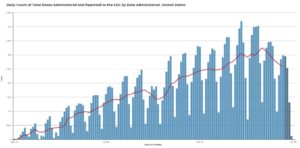 This idea that "foreign policy starts at home" was alluded to by Biden on the campaign trail. The new president often suggested the idea that American foreign policy can no longer be seen as being removed or self-contained from US domestic policy. Even prior to Trump, much of the US foreign policy had grown more detached from the interests of working- and middle-class Americans. Biden believes that this rift between the interests of American citizens and the last quarter of a century of American foreign policy has helped lead America to several of its current domestic issues. These issues are many and varied but include: the hollowing-out of its middle class, historically excessive wealth concentration, the success of a few major cities at the expense of vast areas of America, and a growing disillusionment with democracy and American institutions.
This idea that foreign policy starts at home, is not new, indeed it is a reversion to an older ideal. In 1946, as the United States began to enter the Cold War period, the US diplomat George Kennan stated that every measure solving internal problems was a foreign policy victory over Moscow. The wider foreign policy agenda regarding China is now beginning to have many similarities with the early Cold War, and domestic performance will be as equally important. Biden is also the first President in recent years who does not believe in trying to "reset relations" with Russia, and instead has stated under him, the US will no longer "roll over" to Russia. Russia adding the US to its list of "unfriendly states" only serves to heighten the idea that such inter-state competition is returning.
Part of this realisation that foreign policy begins at home is the fact that American foreign policy rests as much on its image and soft power as it does hard power, negotiators and diplomats. America, and its ideals, are often seen as being the "shining city on the hill" that many nations, and people across the world aspire to. This soft power has been in decline for some time, with the 2003 invasion of Iraq often cited as a correlating factor. The images of the storming of the capitol building in January 2021 for many international observers only served to further undermine American soft power. The idea of America having a violent transition of power between presidents, also provided much propaganda value for the authoritarian states around the world. China and Russia were able to "showcase" a democracy in decline and the "violence and chaos of liberal democracy" against their own perceived stability.
Biden has gone about these changes, and policy implementations, which can be said to be transformative, quietly, and with little fanfare. Indeed, compared to his direct predecessor, much of what Biden has done, will be seen as positive by the wider international community. Biden has acted with speed and authority in enacting a number of key new domestic policies, and also with regards to the way in which US foreign policy is being once again dealt with. His pandemic response package is already helping to drive the global economic recovery, for America is still a primary stimulator of global economic growth. Indeed, Oxford Economics state the US will be the largest single contributor to global growth for the first time since 2005.
Most notable is the fact that the US president is once again no longer communicating through Twitter. It is likely that he is aided in these changes by his many years of service within the DC beltway, 44 years as Senator and Vice President. His years of political experience have likely given him an intimate knowledge of US domestic and foreign politics which will no doubt serve him well through his term of office.