Alert Plus: Multiple Large Earthquakes Strike Southern Turkey

Situation Summary: Large Earthquakes in Southern Turkey
At 01:17 (UTC) on 6 February, a magnitude 7.8 earthquake was detected 30km west-northwest of Gaziantep, Turkey (37°10'26.4″N 37°01'55.2″E). The earthquake struck at a depth of 24.1km and it quickly became apparent that a significant amount of casualties and damage had occurred in Turkey and northern Syria. There have been several substantial aftershocks, eight of which recorded a magnitude of at least 5. Tremors have also been felt in Greece, Cyprus and Lebanon.​
As of 10:00, at least 1200 fatalities had been confirmed across Turkey and Syria. Images and videos posted to social media and local news outlets indicate considerable damage to infrastructure. In Turkey alone, at least 2818 buildings have collapsed. At 10:24, the region was then struck again by a separate 7.5 magnitude earthquake 4km south-southeast of Ekinozu (37°10'26.4″N 37°01'55.2″E) – roughly 128km north of the earlier epicentre. At the time of writing, it has been reported that the region has experienced at least 100 aftershocks. ​
According to the United States Geological Survey (USGS), the area in which the quakes have hit is populated predominately by non-earthquake-resistant residential structures. They are often made of masonry, brick, and non-reinforced concrete frames. As a result, many buildings will have been badly damaged or will have collapsed completely. This means that there will be few places in which survivors can shelter safely.​
Turkey declared a 'Level 4 Alarm' after the initial tremor, which reportedly includes a call for international assistance and support. The European Union has agreed to send rescue teams and is preparing further help for Turkey. US officials are also monitoring the situation and have noted their willingness to help. Rescue teams from India, Russia and Taiwan have also deployed. ​
President Recep Tayyip Erdogan has described events so far as the nation's worst disaster since the 1939 Erzincan earthquake, a 7.8 magnitude earthquake that killed over 32,000.  ​
Intelligence Analysis by Solace Global
The earthquakes have struck as Turkey prepares for its May elections, which were already seen as some of the country's most consequential in decades. These earthquakes further add electoral weight, since previous large earthquakes have led to major political changes in the country. In the wake of Turkey's last major earthquakes, in 1999, voters turned away the incumbent parties in the 2002 elections. These parties were punished as a result of the poor relief and reconstruction efforts, and for the large-scale corruption the earthquake exposed. Recep Tayyip Erdogan and his newly formed Justice and Development Party (AKP) party were the major beneficiaries of this political shift. As a result, he became Prime Minster in 2003 and ascended to the Presidency in 2014, a post he currently still holds.​
The province of Gaziantep, where the epicentre of the earlier earthquake is located, has long been a cradle of support for the AKP and Erdogan. Indeed, support for the AKP and Erdogan has remained high in the province despite the recent economic volatility and uncertainty in the country, and the persistent accusations of corruption levied against the AKP and President Erdogan. Consequently, comprehensive aid and reconstruction efforts are likely to be implemented swiftly. Despite this, contemporary Turkish political history suggests that the AKP, having been the beneficiaries of the 1999 earthquake, may be victims of these ones. This becomes increasingly possible if victims feel that aid is too slow, not sufficient, or that reconstruction efforts are corrupt. ​
Northern Syria has also been badly affected by the disaster. This part of the country has seen several recent Turkish military incursions; it is also home to some of the last anti-government areas of control. The tremors are almost certain to mean that Turkish offensive military operations in the region are temporarily halted, as the military is redeployed to support disaster relief and search and rescue operations in Turkey. The Syrian government may also seek to fast-track search and rescue and reconstruction efforts in areas in the region it controls in a bid to try and win support across an area which was long a stronghold of anti-Assad movements.​
Those with interests in the region are advised to note that there remains considerable potential for large-magnitude aftershocks or follow-on tremors.​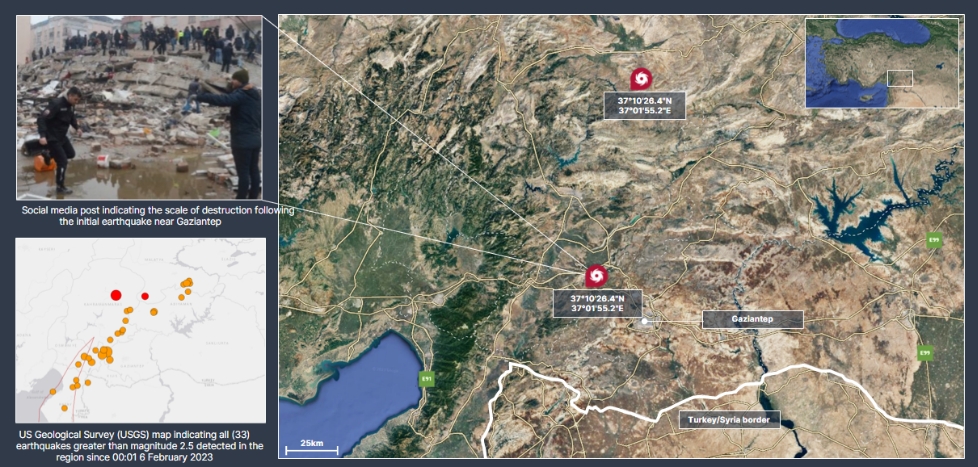 Advice if Affected by Earthquakes in Turkey
Individuals with planned travel to Turkey or Syria are advised to reconfirm itineraries and expect considerable localised travel disruption, particularly in the vicinity of the Turkey/Syria international border​
Be aware that flights into and out of regional airports may be disrupted, impacting downstream travel plans​
Travellers are advised to avoid the immediate vicinity of all damaged infrastructure and ongoing emergency services operations​
Be aware that large aftershocks or additional earthquakes have a realistic possibility of occurring in the coming hours​
If caught in an earthquake, it is advisable to 'Drop, Cover, and Hold On' to reduce the risk of injuries, ensuring to cover the head and neck​
Following an earthquake, there can be serious hazards, such as damaged buildings, leaking gas and water pipes, and downed power lines
If caught outside during earthquakes, exit vehicles and remain clear of overhead powerlines, bridges, or large structures​
If earthquakes occur during travel within coastal regions, be alert to the possibility of tsunami and consider heading towards high-ground once the initial tremors have passed​
Anticipate disruption to essential services, including water and electricity, WiFi or GSM/cellular network coverage, in addition to considerable pressure on local healthcare services ​
Adhere to all instructions issued by emergency services or local government/security officials​
Monitor the Solace Secure platform and trusted local media for updates
Risk Management for NGO's in Turkey and Syria