Alert Plus: Paris Stabbing Attack At Gare du Nord Station

Situation Summary
At around 06:45 local time on 11 January 2023, several people were injured after a lone individual attacked commuters at the Gare du Nord train station in Paris, France. Those present during the incident suggested that the attacker was targeting passengers indiscriminately.
Police officers responding to the incident reportedly fired several shots at the attacker, who was arrested at the scene and remains in a critical condition. Unverified reports suggest that the attacker was first interdicted by an off-duty police officer, although this has not been officially confirmed.
The French Interior Minister Gérald Moussa Darmanin has confirmed that six people have been injured in the attack, including one police officer. A security cordon remains in place around the station, with emergency services still on site.
Police and security officials have not commented on a suspected motive for the attack, and a criminal investigation has been launched.
In the immediate aftermath of the incident, rail network TER Hauts-de-France noted that rail traffic had been disrupted both to and from Paris Nord, with some services still delayed. Limited disruption has been reported for the local road network.
Solace Global Intelligence Analysis
Although officials have not commented on the exact motive for the attack, the methodology (bladed weapon) and targeting preferences (busy transport hub during morning commute) indicate that this incident is highly likely to be terror-related.
There have been a considerable number of high-profile terror incidents in France in recent years, with most attacks in the 21st century conducted either by violent Islamist extremists, or by individuals with extreme right-wing or racist ideologies.
The apparently indiscriminate nature of this attack likely suggests that this incident was an act of Islamist terror, since racially- motivated attacks are highly targeted.
The attack at the Gare du Nord comes less than three weeks (23 December) after a racially-motivated shooting attack killed three at a Kurdish cultural centre and nearby café on the Rue d'Enghien, in the 10th arrondissement, less than 2km from the Gare du Nord station. That incident prompted extensive unrest amongst the local Kurdish population and was condemned by the Kurdish Democratic Council of France (CDK-F).
Previous Islamist terror attacks in France have been motivated by perceived or genuine attacks against ethnic minority, immigrant or Islamic communities.
Paris Stabbing Attack Location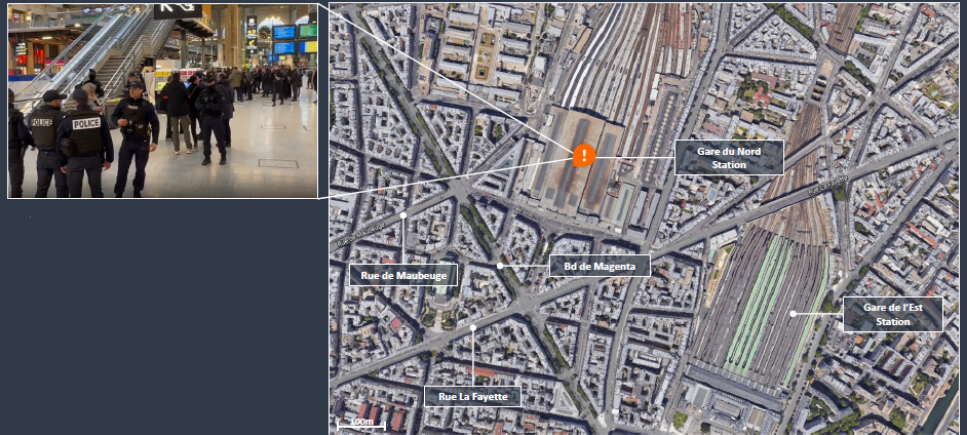 Solace Global Advice
Individuals with planned travel to Paris are advised to reconfirm itineraries and expect localised travel disruption, particularly at the Gare du Nord station but possibly at other stations with planned services to central Paris
Travellers are advised to avoid the immediate vicinity of the Gare du Nord station as emergency services remain on the scene to conduct their investigations
France has a moderate risk of terrorism. Attacks remain realistically possible in the short term, although the presence of additional security force personnel in Paris will very likely mitigate the risk of follow-on attacks in the immediate vicinity of the initial incident
Terror attacks in France are likely to be indiscriminate, using explosives, bladed weapons, vehicles, and firearms to target crowded areas, government or security force installations and personnel, civilians, transportation networks, and other high-profile locations including sites of religious significance
In the event of a terrorist attack those in the area are reminded to RUN – HIDE – TELL – FIGHT
Locations where large groups of residents or tourists are known to gather are at higher risk of attack. You should be particularly vigilant in these areas and follow any specific advice or guidance from the local authorities or security personnel
Exercise increased caution, remain vigilant, be aware of your surroundings and report any suspicious activity or items to security personnel as soon as possible
If caught in the vicinity of a security incident, seek immediate hard cover from any incoming gunfire or explosions and leave the area if safe to do so. Continue to adhere to all instructions issued by authorities and obey any security cordons in place
Monitor the Solace Secure platform and trusted local media for updates