Military deployed in Ouagadougou
At around 0400 local time, gunfire and explosions were reported from military bases inside Ouagadougou. Eyewitnesses and social media also reported gunfire from the vicinity of the Presidential Palace and Camp Baba Sy, where the current transitional government headquarters are located. Multiple roads inside the capital are reportedly blocked and military personnel have deployed on the streets. Local media claim that the immediate vicinity of the national television offices (RTB) is inaccessible due to military roadblocks. Images posted to social media appear to indicate state TV outages in Burkina Faso, although this has not been confirmed.
Heavily armed personnel are now reportedly present along the "strategic axes" of Ouagadougou, although no further details regarding their exact location are currently available. The current whereabouts of Burkina Faso's President Paul Henri Damiba, who came to power after a military coup in January 2022, are also unconfirmed, although he reportedly remains inside the capital.
Sporadic gunfire continues several hours after the initial reports of violence. The situation remains highly volatile, with violence ongoing throughout the capital, and the current tactical situation remains unclear due to difficulties obtaining accurate information from the ground. Burkina Faso has rapidly become the epicentre of the violence that began in neighbouring Mali in 2012 but which has since spread across the Sahel region south of the Sahara Desert. The Burkina Faso military has been conducting a series of operations against Islamist militants across the country's East and Sahel regions in recent months, with military forces claiming to have killed over 100 militants in the past month alone.
Although not yet confirmed, this incident bears all the hallmarks of an attempted military coup. Burkina Faso last experienced a military coup in January 2022 and has been under transitional military rule since then. During the January coup, gunfire was reported from military bases across the capital and soldiers were reported to have seized the Sangoulé Lamizana barracks and surrounded the RTB offices. Soldiers subsequently appeared on national TV to announce the overthrow of former President Roch Kabore. Around eight days later, the military junta restored the constitution and appointed Paul-Henri Sandaogo Damiba as interim president.
Control of state television apparatus appears to be a reliable coup indicator. In 2021, soldiers appeared on national television in Guinea to announce a military coup which deposed longstanding President Alpha Conde. In this way, further reports of soldiers entering the RTB offices in Ouagadougou should be considered likely indicators of a confirmed coup attempt.
Although unclear, 'strategic axes' of the capital very likely refer to the Boulevard des Tensoba, the area around the US Embassy and Presidential Palace near Boulevard Muammar Kaddafi, Avenue Kadiogo and Avenue de la Nation.
The situation in the capital comes just 24 hours after protests against President Damiba, blaming him for the deteriorating security situation in the country, and just days after at least ten soldiers were killed and 30 injured in an attack on a military convoy near Gaskindé. These incidents follow a sustained pattern of violence in the north of the country which appears to be spreading to the capital, as security forces battle to contain an expanding Islamist militancy. On 7 August, the government were forced to deny reports that they intended to sign a truce with militant groups until their planned transition to democracy was complete.
It therefore remains likely that elements within the Burkina Faso military have attempted to launch a coup against the current junta. The situation will almost certainly remain delicate and highly volatile in the immediate term.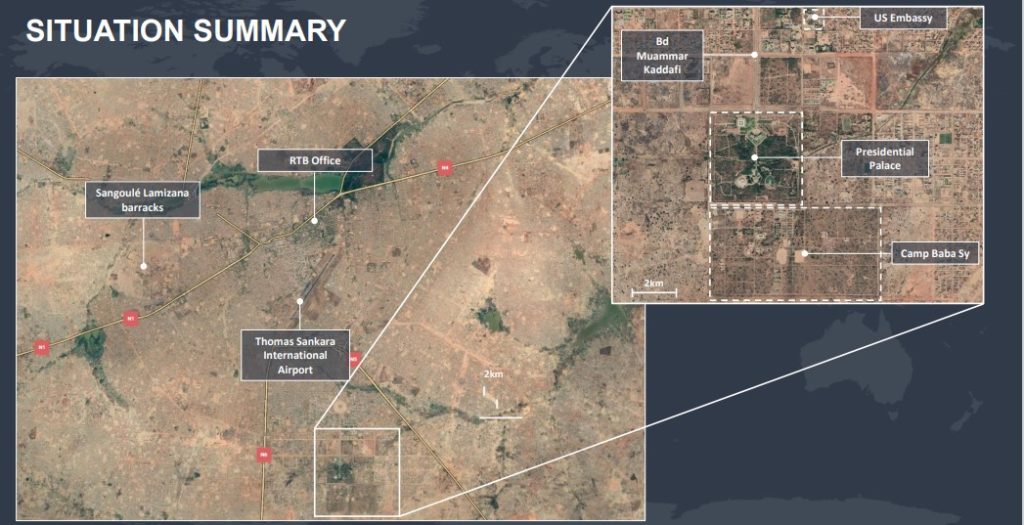 Solace Global Advice
• Widespread unrest and violence remain possible in the short term. Travellers should avoid all ongoing military activity and any large public gatherings as the security situation may deteriorate quickly and without warning.
• In the event of a significant security development, travellers in Burkina Faso should follow any instructions issued by the government or military authorities.
• If violence escalates inside the capital, consider departing from Ouagadougou whilst commercial options are available.
• Key military and political infrastructure inside the capital are very likely to remain focal points for violence. You should be particularly vigilant in these areas and follow any specific advice from the local
security authorities.
• Expect significant travel disruption and an enhanced security force posture inside Ouagadougou in the short term.
• Always follow all instructions and orders from security forces. ​Where possible, avoid areas of active conflict and remain inside a secure location away from windows.
• Ensure that you always carry personal identification documents. Consider making photocopies of important documents in case of confiscation, theft or loss.​
• Emergency services may be unable to support you in the short term. Be aware of what consular support may be available to you in-country.
• Exercise increased caution, remain vigilant, be aware of your surroundings and report any suspicious activity to security personnel as soon as possible.
• If caught in the vicinity of a security incident, seek shelter immediately and leave the area if safe to do so. Continue to adhere to all instructions issued by authorities and obey any security cordons in place.
• Monitor the Solace Secure platform and trusted local media for updates.