Alert Plus – Brooklyn Subway Incident – April 2022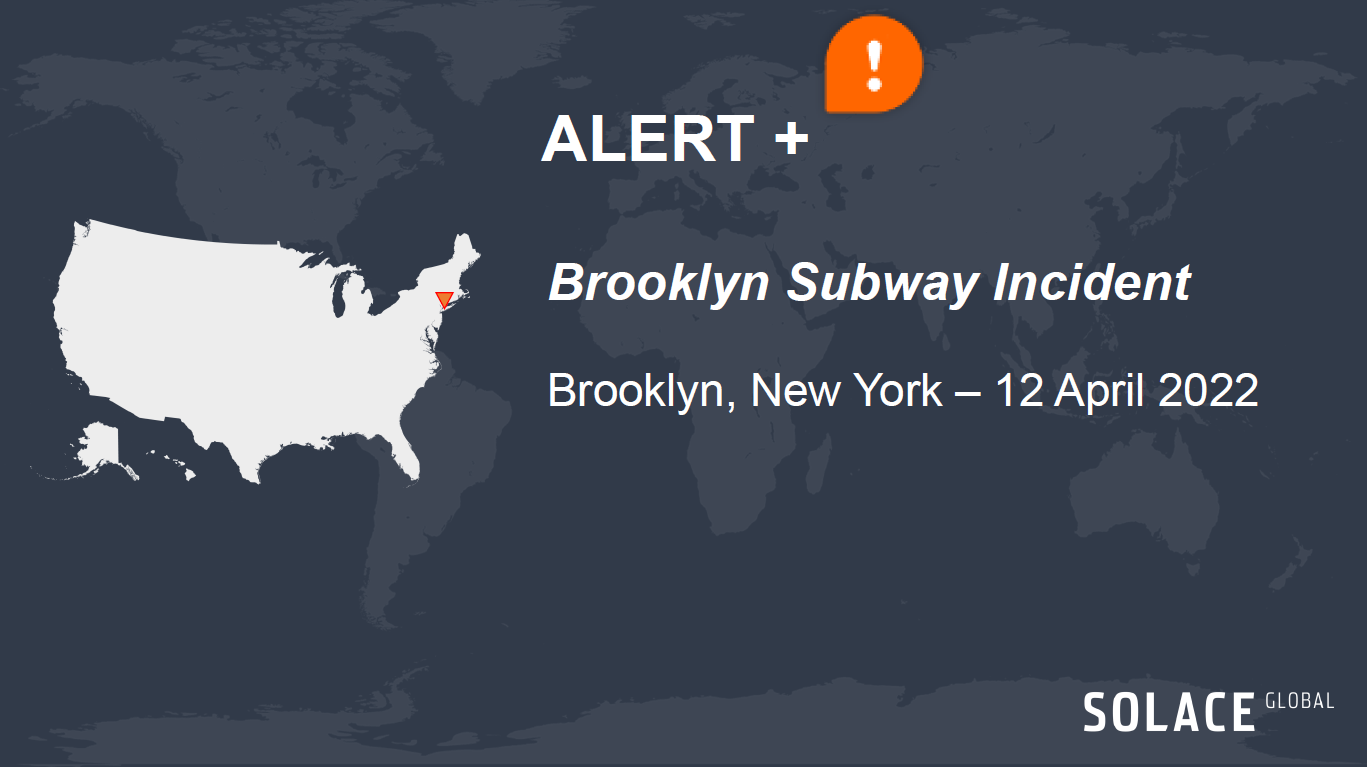 SITUATION SUMMARY
On April 12 at around 08:30 am ET, gunfire and explosions were reported at the 36 th Street subway station in Sunset Park, Brooklyn. Either an explosive or smoke/incendiary device reportedly detonated before an individual opened fire, although it is currently unclear if the attack commenced on a train or at the platform. At least six individuals with gunshot wounds have been reported, with several other casualties being treated for smoke inhalation and panic related injuries. Several unexploded devices were also reportedly left at the scene, although the NYPD has since claimed that there are currently no active devices at the station. Armed police and emergency services are currently at the station, with NYPD reportedly in pursuit of at least one suspect. Explosive Ordnance Disposal units also remain at the scene. Imagery from social media shows multiple casualties and smoke visible in the air, amid unconfirmed reports that the perpetrator was wearing a construction outfit or high vis jacket and wearing a gas mask. Police have now closed roads and subway stations in the vicinity of 36th Street station, whilst the R, D and N train services have been suspended in both directions in Brooklyn and at some Manhattan stations. Local schools are in shelter in place mode.
SOLACE GLOBAL COMMENT
At time of publishing, there has been no confirmation from authorities that this is a terrorist incident, although it certainly bears all the hallmarks of one. Similarly, no group has yet claimed responsibility for the attack. Combinations of explosive devices, weapons and attempts at clothing concealment almost certainly indicate a considerable amount of pre planning for this attack, which appears to be more sophisticated than a typical mass shooting incident. The attack has been deliberately timed and targeted to inflict large numbers of casualties at a peak time in a busy subway station with large numbers of commuters. Similarly, the ensuing chaos would provide an excellent opportunity for perpetrator(s) to extract from the scene. It therefore remains realistically possible that this represents a lone actor terrorist attack. Recent terrorist attacks in the US have been conducted by individuals with violent Islamic ideology, extreme right wing views or by individuals with probable mental health issues. It is noteworthy that this incident has occurred during the holy month of Ramadan and in the days immediately preceding the Easter holidays. Given that the perpetrator(s) have not yet been detained, there remains considerable potential for subsequent attacks in the greater New York area. New York City is a particularly target rich environment given the abundance of high value infrastructure and the high population density. Individuals are highly advised to avoid the area and to follow all instructions issued by the police and emergency services at the scene. Be aware of the potential for follow on attacks.
SOLACE GLOBAL ADVICE
In the event of a shooting or explosive incident those in the area are reminded to RUN – HIDE – TELL – FIGHT.
Terrorists are highly likely to try to carry out attacks in the US. The possibility of further attacks in the immediate term cannot be ruled out.
Attacks are likely to be indiscriminate, including in crowded areas, government, military and police installations and against personnel , civilians, transportation networks, and high profile locations.
Areas where large groupings of residents or tourists are known to gather may be at higher risk of attack. You should be particularly vigilant in these areas and follow any specific advice of the local security authorities.
Make sure you are familiar with contact details for the emergency services (in the US dial 911).
Travellers are advised to avoid the immediate area of any incident as emergency services remain on the scene to conduct their investigations.
Expect localised travel disruption and an enhanced security force posture in the short term.
Exercise increased caution, remain vigilant, be aware of your surroundings and report any suspicious activity to security personnel as soon as possible.
If caught in the vicinity of a shooting, seek cover from fire immediately and leave the area if safe to do so. Continue to adhere to all instructions issued by authorities and obey the security cordon in place.
Report any suspicious items to the nearest security or police officials.
Monitor the Solace Secure platform and local media for updates.
Solace Global remains available to provide the full range of Travel Risk Management services to clients. Solace Global is also able to provide comprehensive crisis management, response, and evacuation services. For further details please contact 
+44 (0) 1202 308 810
 or 
email us
.