Alert Plus – Escalating violence in Israel – March 2022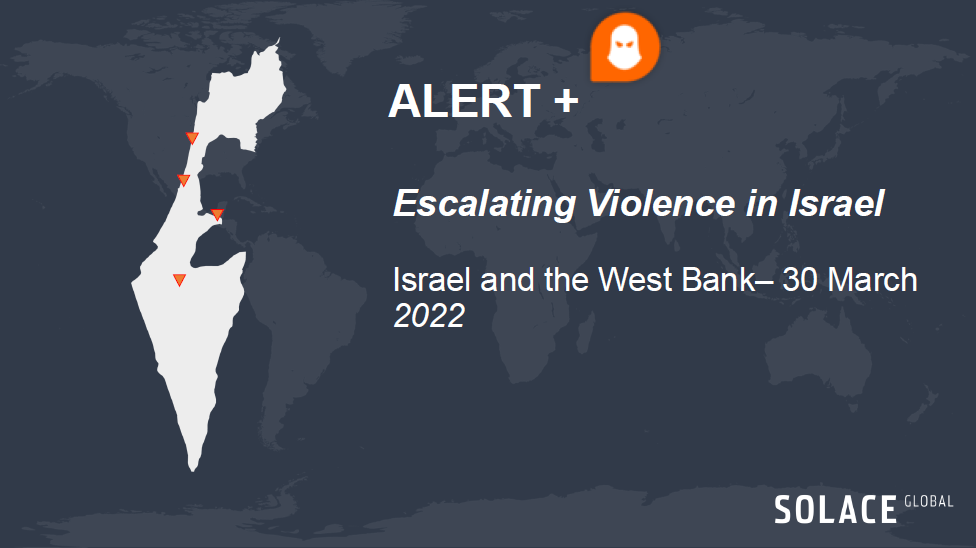 SITUATION SUMMARY
At least five people were killed in a mass shooting in a Tel Aviv suburb on 29 March. The attack occurred in the ultra Orthodox Jewish area of Bnei Brak and began shortly before 20:00 local time. The perpetrator, identified as a 26 year old Palestinian man from Ya'bad in the West Bank, was shot dead by Israeli police several minutes after the attack began. Footage of the incident was posted on social media and showed the gunman firing indiscriminately at apartment balconies and passers by in the vicinity of Bialik, Hertsel and Ha Shnayim streets. Among the victims were local residents , including a rabbi, as well as a responding police officer and two Ukrainian nationals. The death toll would almost certainly have been greater had the assailant's rifle not malfunctioned on at least two occasions, as reported by eyewitnesses and survivors of the attack. The attack was quickly declared an act of terrorism and triggered a large scale response from emergency service personnel and Israeli security forces. A heightened Israeli police and military presence was deployed to the scene amid concerns the shooter may have had accomplices. According to Israeli media reports, the assailant was believed to have been working illegally at a construction site in Bnei Brak and had previously served a short prison sentence for security offences. At the time of publishing, it appears the gunman acted alone and was not affiliated to any terrorist group. The killings were swiftly condemned by Israeli Prime Minister Naftali Bennett, other political figures and the international community. In a statement published shortly after the attack, PM Bennett said the country was "dealing with a new wave of terrorism." He also reassured the population that Israeli security forces are "up to the task" and would prevail, despite the "great and complex challenge" posed by terrorism and violence. Meanwhile, Palestinian terrorist organisations hailed the killings, with a Hamas official reportedly claiming the 'Tel Aviv operation' emphasised the unity of the Palestinian people. Moreover, the Palestinian Islamic Jihad group (PIJ), a US designated terrorist organisation , warned the attack was a "harbinger of our people's operations to come". The attack in Bnei Brak marked the third fatal attack in Israel in the past week and caps one of the deadliest in recent years. Indeed, attacks were carried out in Hadera and Beersheva , on 27 and 22 March, respectively. Both attacks were indiscriminate in nature and carried out by Israeli Arabs armed with bladed weapons and/or firearms. The assailants in the Hadera and Beersheva attacks were alleged to have links to the so called Islamic State (IS) terrorist group, raising concerns the group may be planning further violence to coincide with Muslim holy month of Ramadan, which begins on 2 April.
SOLACE GLOBAL COMMENT
The fact that this attack comes so soon after a spate of similar attacks will only fuel concerns that Israel may well be in the middle of another wave of violence. What is likely to be most concerning, however, is the fact that the majority of these recent attacks were carried out not by Palestinians, but by Arab or Bedouin Israeli citizens who have expressed an allegiance to the Islamic State group and were previously known to Israeli security services. This recent shift in the demographics of attackers in Israel if it is seen to continue will spark fears that the country could see a wave of violence and terrorism emanating not from Gaza or the West Bank but from within Israeli borders from Arab and Bedouin majority towns. Such violence was seen in 2021 when towns such as Lod, Acre, Tiberius, and Haifa saw widespread unrest and sectarian violence between Arab and Jewish Israelis. This spate of terror attacks comes at what is often a tense time within both Israel and the Palestinian territories. Ramadan begins on 2 April and is typically associated with an uptick in violence across the entirety of the Middle East, with night prayers drawing worshippers to al Aqsa in Jerusalem and many opting to remain within the vicinity of the mosque for the remainder of the month. Nakba Day also occurs on 15 May, which marks the Palestinian commemoration of the "catastrophe" of the formation of the State of Israel, and often results in protests and clashes between the Israeli Defence Forces and Palestinians. Last year saw at least 29 injured on Nakba day as a result of protests and unrest. Furthermore, there are several events in Jerusalem specifically during the next month, including mass visits to the Western Wall, the Temple Mount, and the city of Jerusalem for the conclusion of Passover. The wider geopolitical context for the uptick in violence is complex and multifactorial. It includes increasing official recognition for the state of Israel. At a summit in the Negev between the US, Israel and assembled Arab leaders , cooperation on several issues was agreed including broadening the nations who have signed the "Abraham Accords". Alongside this, a meeting of the PLO central committee saw them agree to rescind its recognition of Israel and security cooperation across the West Bank. Recognition or cooperation with Israel from other Arab states is often seen as zero sum game by Palestinians, in which they do not emerge victorious. As a result, such announcements often spark protests and a backlash. Further to this, Iranian influence on Hamas, who often call for protests and civil unrest in the Gaza strip, cannot be discounted especially when negotiations around the JCPOA are still ongoing. In summary the tense geopolitical situation in the region, combined with the forthcoming key dates within Arab and Islamic culture means that more attacks are likely to occur in the short term. If these attacks continue to emanate from within Arab/Bedouin communities within Israel, then this will likely contribute to wider sectarian violence across the country. Attacks emanating from Israeli citizens are also harder for Israeli security services to counteract, as much of their counter terror operations are currently focuses on Palestinian nationals. Key targets for attack are likely to include Israeli governmental and defence buildings, national transportation hubs. Meanwhile key areas for protests tend to be found around points of religious significance such as those around the old town of Jerusalem.
SOLACE GLOBAL ADVICE
Terrorists are highly likely to try to carry out further attacks in Israel and the Occupied Palestinian Territories. The possibility of further attacks in the immediate term cannot be ruled out.
Heightened tensions, brought about by rocket attacks from Gaza into Israel, Israeli airstrikes on Gaza, use of force by Israeli authorities, and regional political developments, increase the risk of retaliatory terrorist attacks in Israel.
Attacks are likely to be indiscriminate, including in crowded areas, government, military and police installations and against personnel, transportation networks, businesses with Western interests.
Areas where foreign nationals and tourists are known to gather may be at higher risk of attack. You should be particularly vigilant in these areas and follow any specific advice of the local security authorities.
Make sure you are familiar with contact details for the emergency services (in Israel dial 100; in the West Bank and Gaza dial 101).
Travellers are advised to avoid the immediate area of any incident as emergency services remain on the scene to conduct their investigations.
Expect localised travel disruption and an enhanced security force posture in the short term.
Exercise increased caution and situational awareness and report any suspicious activity to security personnel as soon as possible.
If caught in the vicinity of a shooting, seek cover from fire immediately and leave the area if safe to do so. Continue to adhere to all instructions issued by authorities and obey the security cordon in place.
Monitor the Solace Secure platform and local media for updates.
Want more information on the risk landscape in Israel?
Enquire using the form below for more information on
bespoke intelligence services
from our in-house analysts. [wpforms id="6220″]