Read the latest intelligence regarding the Ukraine Crisis.
In response to the high levels of enquiries for trusted intelligence, we will be launching a new daily Ukraine SITREP subscription, to update you on the latest developments and military movements.
Each 3 page report is written by Solace Global intelligence analysts and delivers a concise overview of the latest developments over the last 24 hours. Each report will give you a clear understanding on the present threats, with a 24 hour forecast on what could be expected next within the conflict areas.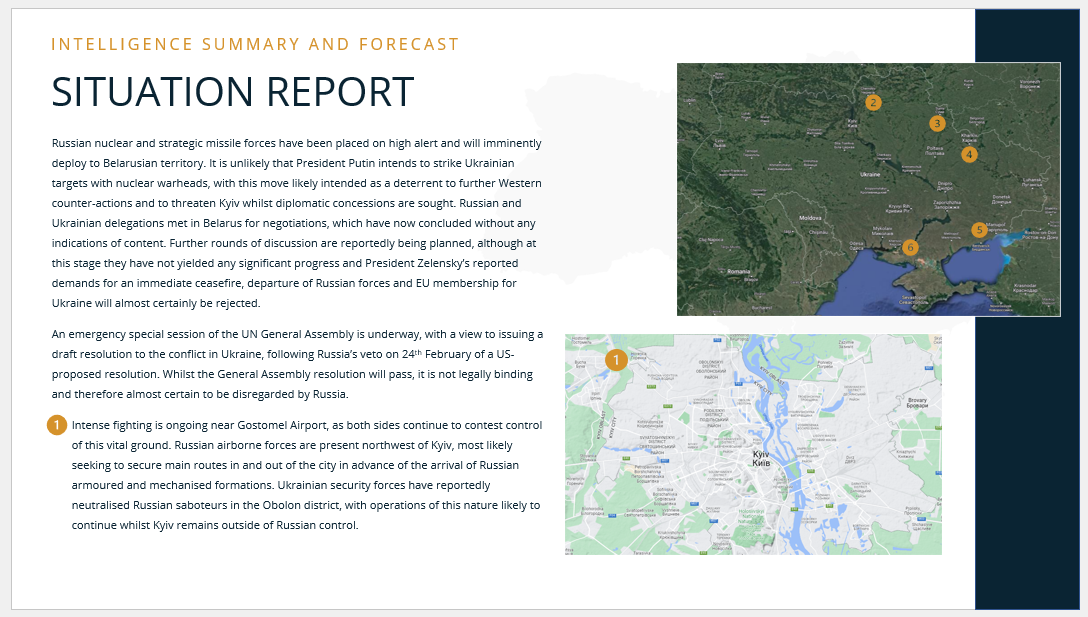 Example page from 28th February 2022 report
Supporting those affected by the crisis
We have a proven track record with emergency evacuations and operating within hostile or unstable environments. Our 24/7/365 security operations centre provides specialist crisis response and provides trusted, credible intelligence to give you a clear understanding on the present threats.
Our situation reports form part of our ongoing Ukraine security support, to assist those affected by the crisis in Ukraine. At time of writing we can assist with in-country support and emergency evacuations.  Learn more here.
How to subscribe
Reports are delivered every weekday, priced at £129 per week for non-clients.
Complete the form below to enquire.