Alert Plus – Ukraine Russia Crisis – February 2022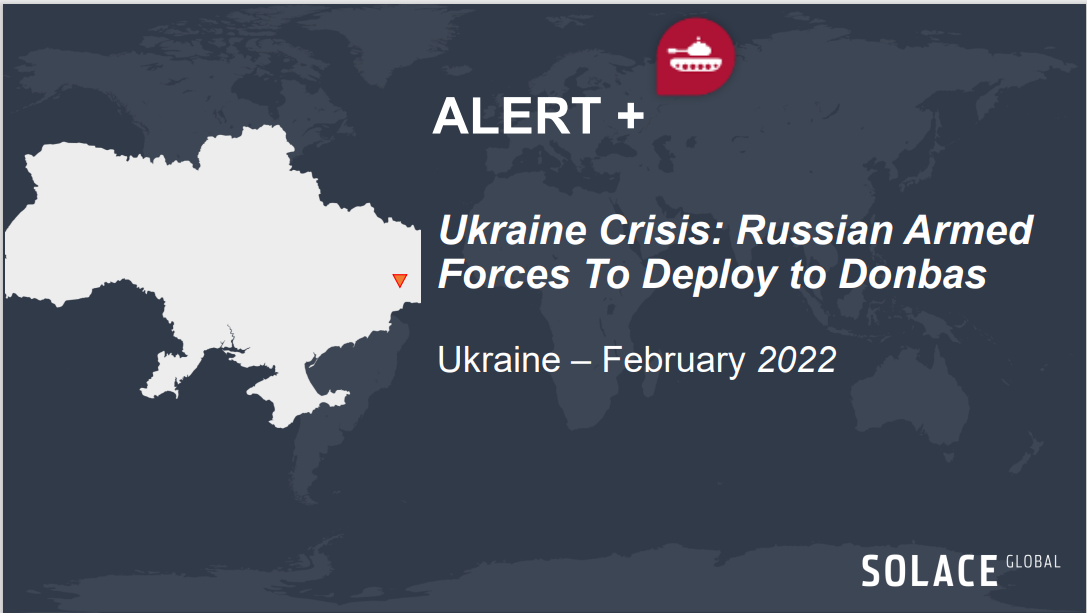 SITUATION SUMMARY
In a televised announcement on 21 February 2022, President Putin declared that Russia would officially recognize the rebel-held areas of Donetsk and Luhansk as independent states. Following requests for military assistance from the leaders of the Luhansk and Donetsk People's Republics, President Putin has reportedly committed to deploying Russian Armed Forces to the rebel held regions, to conduct unspecified peacekeeping operations. UK Defence Secretary Ben Wallace confirmed that military equipment is already beginning to deploy into the region, although tactical force dispositions are not currently known. Although this scenario had been somewhat anticipated, given the rapid deterioration of the security situation over the preceding 48 hours and several Russian claims of false-flag operations, the announcement has been met with ubiquitous condemnation by Western leaders. Extensive, pre-planned and synchronised sanction regimes were announced by Western nations following the release of the Russian statement, details of which will be made public in the immediate term but will almost certainly target key political figures and strategic Russian financial interests. The German Government has already suspended the approval process for the Nordstream2 gas pipeline until further notice. Whether Russia is intending to use sanctions they deem overly excessive or disproportionate as a tripwire for justifying additional incursions beyond the Donbas remains to be seen. Oil prices also surged in the immediate aftermath of the announcements of sanctions, as futures of Brent crude, the international benchmark, reached a seven-year high of almost $98 (£72) amid concerns over supply chain disruption and the impact of sanctions on Russian exports. Discussions are ongoing in the West as to the severity of sanctions. Poland and the Baltic states are arguing for harsh sanctions to be applied immediately, stating that Putin will "taunt" the West with "one thousand cuts". France and Germany are urging restraint in the short term, to ensure additional leverage can be applied in the event of further escalation by Russia.
SOLACE GLOBAL COMMENT
The extent to which Russia will recognise the entirety of the territory in the Donbas is unclear. At present, rebel-held areas do not comprise the entirety of the Luhansk and Donetsk oblasts of Ukraine. Therefore, any decision by Russia to unilaterally declare the whole regions as independent states will highly likely lead to Russian Armed Forces deploying west of the currently recognised Line of Contact. This will almost certainly increase the likelihood of clashes between conventional forces of the Russian and Ukrainian militaries and risk a rapid, significant deterioration of the security situation and critical escalation of the conflict. The force composition of troops deployed to the Donbas will almost certainly provide an indication as to the operational intent of the Russian Armed Forces in Ukraine: a moderate forward deployment of Russian National Guard personnel or motorised rifle units will most likely indicate that Russia intends to hold ground and consolidate east of the Line of Contact, whilst a large-scale deployment of armoured, airborne and/or artillery formations should be considered a crucial indicator for possible onward incursion into Ukraine. Any Ukrainian Armed Forces operations in the vicinity of the Line of Contact (including reconnaissance, air defense and counter-battery strikes) will almost certainly be perceived as offensive in nature by any deployed Russian Armed Forces, and as such there remains considerable potential for the conflict to escalate rapidly and with minimal warning. It remains realistically possible that Russia intends to conduct further offensive operations in Eastern Ukraine, with seizing and holding localities populated by ethnic Russians or Russian-speakers likely to be key operational objectives. As a result, Solace Global advises that business operations in Kharkiv, Berdyansk and other cities in the vicinity of the Donbas Region should consider evacuating to safer areas in the west of Ukraine.
SOLACE GLOBAL ADVICE
Travellers are currently advised against all travel to Eastern Ukraine.
Businesses and commercial operations are advised to immediately cease all activity in the immediate vicinity of the Donbas region and move their operations to more secure regions either outside of the country or to the west of Ukraine.
Where this is not possible, businesses must ensure robust safeguards and evacuation plans are documented and followed when required.
Travellers should consider their exit routes from the country. Commercial aviation is likely to become unviable in the short term and as such, alternative evacuation routes must be considered. Already some airlines have temporarily suspended flights to Ukraine, including Lufthansa and KLM.
Carry personal identification documents at all times in case you need to transit through a checkpoint or are requested to present it by officials.
Update your escalation and evacuation plans for Ukraine, focusing on what protocols staff members should follow in the event there is further significant deterioration in the security environment.
Anticipate a heightened military presence throughout the country with additional security being reported near all major political and media buildings. Exercise vigilance and follow all official directives.
Travellers should follow local media and use the Solace Secure app to stay up to date with security-related events
Need support with your Ukraine operations?
Complete the enquiry form to speak to our travel risk management team. 
[wpforms id="6054″]