Alert Plus – Burkina Faso Coup – January 2022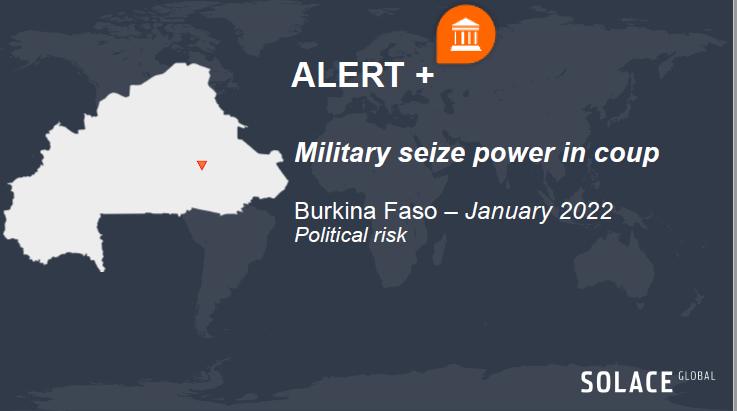 SITUATION SUMMARY
In a statement on national television on 24 January, the Burkina Faso Armed Forces announced that they had dissolved the country's government, suspended the constitution, and closed national borders Alongside this, a nationwide curfew is currently in force from 21 00 to 05 00. The coup followed a series of revolts at army bases across the country. Troops called for the dismissal of the army chiefs of staff, as well as better funding and equipment to combat Islamic extremist groups. It also comes one week after 11 soldiers were arrested by the government for being involved in a coup plot. Beginning on 22 January, protesters gathered in the Burkina Faso capital Ouagadougou in support of the armed forces and called for President Kaboré's resignation. On 23 January gunfire was heard in the capital, this gunfire is believed to have been related to an assassination attempt on the President It was also reported that the nation's internet was seeing "significant disruptions". These disruptions persisted until late on 24 January. The morning of 24 January, saw an announcement that mutinying soldiers had " the President. Later in the day, military convoys were seen outside the Presidential Palace and the offices of the country's state broadcaster. It was not until later in the evening on 24 January local time however that the coup was officially confirmed through a statement on national television. The military group behind the coup, the Patriotic Movement for Safeguard and Restoration (MPSR) are a previously unheard of grouping. The group which "includes all sections of the army" stated they had decided to "end President Kaboré's post today". As news of the coup filtered out, The African Union (AU) and the Economic Community of West African States (ECOWAS) condemned events Additionally the United States and the European Union have called on the military to release President Kaboré.
SOLACE GLOBAL COMMENT
Elected to power in 2015 President Roch Marc Christian Kaboré was the first non transitional leader to assume office in 49 years without ties to the Burkina Faso Armed Forces. His presidency has been marred by an ongoing jihadist insurgency that originated in Mali, and has engulfed much of the Sahel in recent years. The often poorly trained and equipped militaries in the region, including the Burkinabe military, are unable to retaliate effectively against the insurgent groups. These include the Islamic State in the Greater Sahara (ISGS) and Al Qaeda in the Islamic Maghreb (AQIB). These groups have been able to exploit the region's weak states and porous borders. As such they regularly cross the Burkinabe borders with Mali and Niger with ease. The most significant attack in recent months occurred in November 2021 near a gold mine in Inata. This attack left 49 gendarmes and four civilians dead. There was public outcry when it was revealed that troops lacked ammunition, equipment, and had gone for several weeks without receiving food rations. Despite changes over recent years to the Burkinabe security forces, they have remained unable to cope with the spreading insurgency. Protests have frequently taken place, criticizing Kaboré for his response to the insurgency. These have often resulted in violent crackdowns. The most recent protest was due to occur on 20 January, however it was banned. To try and contain the regional insurgency, France had deployed some 5,100 across the Sahel to combat Islamist groups. This was known as Operation Barkhane. However, President Macron announced in June 2021 that a withdrawal of French troops from the region would begin. This is currently scheduled to be complete by the first quarter of 2022. The withdrawal of French troops is likely to serve to compound the security problems of the Sahel region and of Burkina Faso. These security problems, and the uncertainty generated by the French withdrawal, are believed to be behind the regions high number of coups in recent months, four, in seventeen months. Two in Mali, one in Guinea, one in Chad, and now, Burkina Faso.
SOLACE GLOBAL ADVICE
Travellers are advised against all non essential travel to Burkina Faso due to the volatile security environment across the country. Any critical travel should only be conducted with enhanced risk mitigation measures, including armoured vehicles able to traverse difficult terrain and a certified armed escort from an accredited provider. It is also of crucial importance that these be arranged prior to arrival in country.
The security situation in Burkina Faso is unlikely to improve in the short term. Terrorist groups are highly likely to continue to attempt attacks in the country, including in Ouagadougou.
Security forces are also likely to continue to be targets of opportunity for such attacks. There is also a heightened risk at places of worship, shopping areas, hotels, and entertainment venues.
Travellers should avoid all large public gatherings and demonstrations as not only are they a target of opportunity, protest activity is known to escalate quickly and without warning. Security forces have previously used violent dispersal methods against them.
Travellers to the country, particularly nationals of Western countries, should be aware that they present a prime target for kidnapping, and on certain occasions, hostages have been killed by their captors without a ransom being demanded. A number of hostages continue to be held by terrorist groups throughout Burkina Faso.
Certain countries, such as the United Kingdom, have a policy not to make substantial ransoms to hostage takers and it is illegal for private citizens to pay such ransoms. It is believed that these could financially strengthen such groups and encourage further hostage taking in the future.
Solace Global remains available to provide the full range of Travel Risk Management services to clients. Solace Global is also able to provide comprehensive crisis management, response, and evacuation services. For further details please contact 
+44 (0) 1202 308 810
 or 
email us
.