Alert Plus – Tonga Eruption – January 2022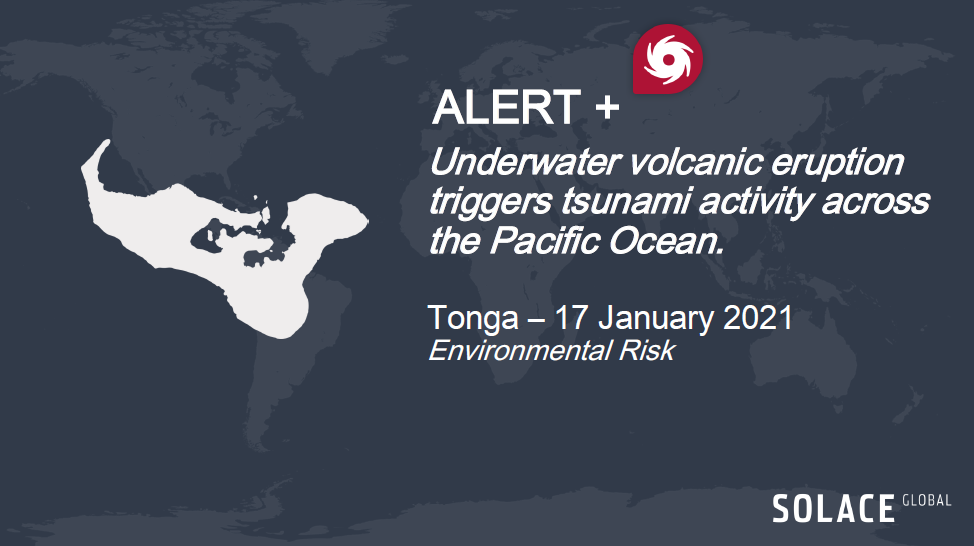 SITUATION SUMMARY
Tonga's Hunga Tonga Hunga Ha'apai underwater volcano, located roughly 65 kilometres north of the capital Nuku'aolofa erupted violently at 04 10 GMT on 15 January. Satellite imagery of the eruption indicated a 5 kilometre wide plume of ash and gas rising 20 kilometres into the air The eruption also triggered tsunami warnings and advisories across the South Pacific and North Pacific regions, including as far as Alaska in North America, central Chile in South America and eastern Japan in Asia. Indeed, the powerful eruption generated tsunami waves approximately one metre in height, inundating entire towns in Tonga and American Samoa, including the capitals of Nuku'alofa and Pago Pago. Large waves and tidal surges also impacted other South Pacific islands, such as Fiji and Vanuatu, as well as coastal areas in Japan, the United States, Chile and Peru, amongst other locations. The extent of the damage caused remains unclear with governments across the region currently working to determine the impacts of the tsunamis, as well as what urgent assistance is needed. The eruption is understood to have also damaged submarine cables that connect the South Pacific islands, resulting in widespread power outages and communications blackouts, including disruptions to phone lines and internet services. These communications challenges are making the full extent of the damage difficult to calculate Videos posted on social media and initial local reports suggest Tonga has sustained significant damage, especially on the outer lying islands. Satellite imagery appeared to show Tonga's uninhabited Nuku and Tau islands completely eroded. At the time of writing, Australian surveillance aircraft are deployed to the area in an effort to provide images allowing regional governments to gauge what support is needed. Additionally, the eruption is understood to have blanketed Tonga in volcanic ash, raising concerns of contaminated food and water supplies, as well as poor air quality. The presence of volcanic ash has also been reported on some Fijian islands and in Samoa, hindering initial efforts to conduct aerial surveillance of the worst affected areas and deliver aid.
SOLACE GLOBAL COMMENT
The Hunga Tonga Hunga Ha'apai underwater volcano is located approximately 65 kilometres north of the Tongan capital of Nuku'alofa. This volcanic island is part of the Tonga Kermadec Islands volcanic arc; a formation of up to 30 underwater volcanoes that stretch across the South Pacific seafloor from Tonga to New Zealand. Previous eruptions between December 2014 and January 2015 triggered widespread air travel disruption in the region. Strong volcanic activity resumed at the Hunga Tonga Hunga Ha'apai underwater volcano in December 2021. Intermittent eruptions of white, gaseous clouds were documented, eventually culminating in a major eruption on 14 January 2022. This eruption has been described as one of the world's largest in the last decade. The ongoing communications challenges are making the full extent of the damage and the number of casualties difficult to determine. However, initial impact assessments provided by surveillance flights suggest that the tsunami has resulted in significant damage to buildings and infrastructure in Tonga. Fortunately, there have been no early indications of mass casualties. However, the emerging reports of contaminated water and food supplies mean that there is a strong requirement for urgent external aid to the affected communities in the immediate term, including emergency shelter, drinking water, food and medical supplies. Australia and New Zealand are already reported to be coordinating with the United States and France, as well as other countries, on the humanitarian response. Tonga itself is listed as one of the world's most vulnerable countries on the World Disaster Risk Index. In 2021 the nation ranked third out of 181 countries due to its significant exposure to natural hazards, high susceptibility and lack of coping capacities. Island nations in the South Pacific are exposed to a multitude of natural hazards, including regular seismic and volcanic activity capable of triggering tsunamis with little to no warning. Cyclonic weather systems are also frequent, which combined with the effects of climate change, increase the vulnerability of communities across the South Pacific.
SOLACE GLOBAL ADVICE
Further volcanic activity cannot be ruled out in the near term. Monitor for further warnings or advisories and adhere to any safety directives.
Monitor local media outlets and official disaster response channels for the latest updates.
If in a tsunami warning area, move inland or uphill as quickly as possible.
In the event of ashfall, wear respiratory masks as well as suitable clothing to protect the skin.
Anticipate rough/dangerous sea conditions in the coming days. Avoid coastal areas as a safety precaution until it has been confirmed safe to return.
Only drink bottled or boiled water unless mains water supplies have been confirmed safe to drink.
Do not enter damaged structures unless they have been deemed safe by a safety official.
Avoid floodwaters as a safety precaution due to hazards such as underwater debris and contamination with wastewater or other harmful chemicals.
Have an emergency 'grab bag' prepared with the essential supplies ( batteries/power pack, water, non perishable food, warm clothes/waterproofs, phone, ID documents etc should the need to evacuate arise at short notice.
Anticipate major disruptions to air, sea and overland travel in the coming days.
Anticipate prolonged power outages and communications blackouts Limit the use of battery powered items where possible.
Solace Global remains available to provide the full range of Travel Risk Management services to clients. Solace Global is also able to provide comprehensive crisis management, response, and evacuation services. For further details please contact 
+44 (0) 1202 308 810
 or 
email us
.