Alert Plus- Kampala Bombings – November 2021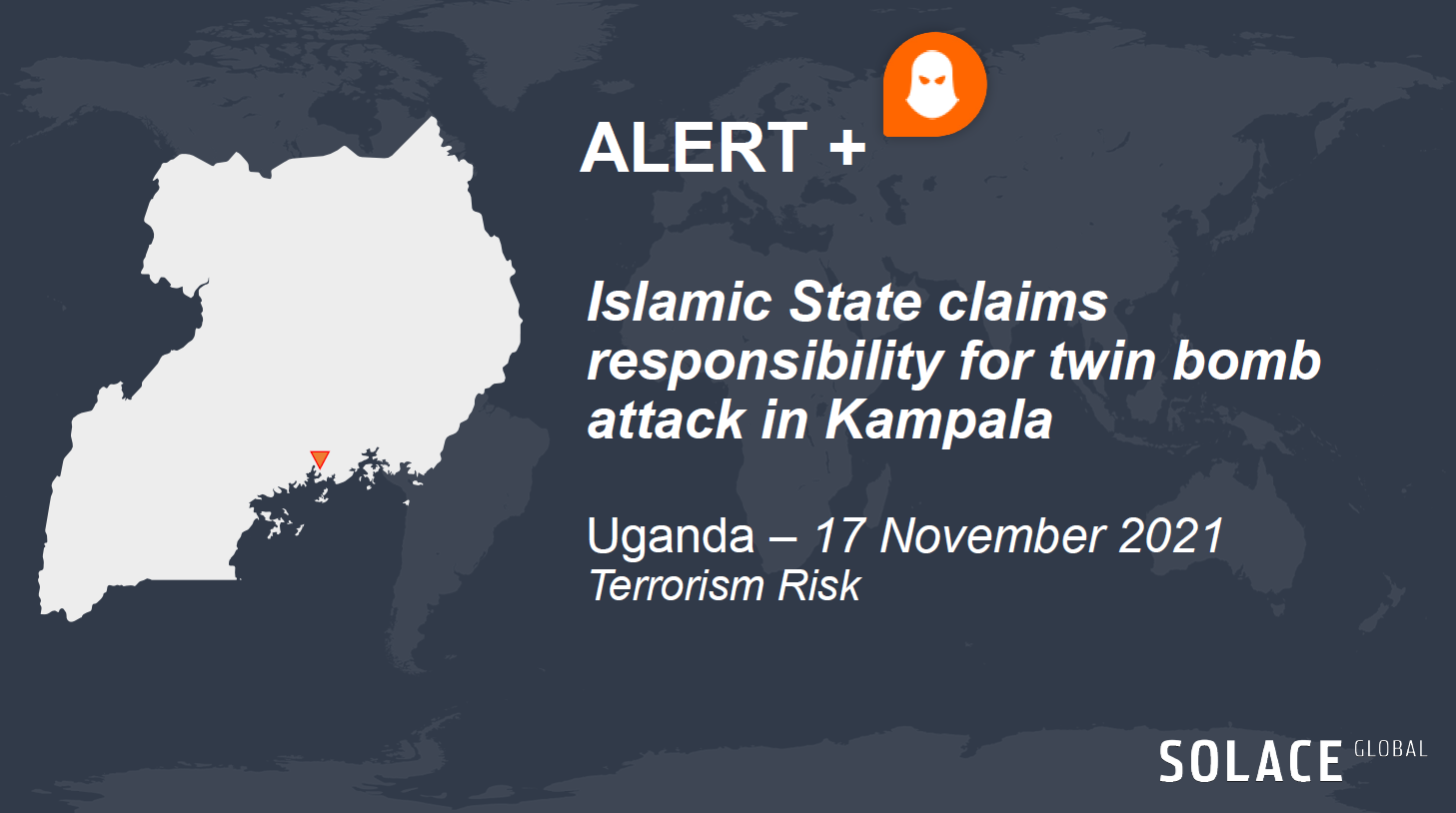 SITUATION SUMMARY
At least six people were killed, and 36 others suffered injuries in a twin suicide bomb attack in central Kampala on 16 November. According to an official Ugandan Police Force statement published on 16 November, the first attack occurred at a security checkpoint near to the Central Police Station at around 10:03 local time. The second attack took place roughly three minutes later outside the Raja Chambers building on Parliamentary Avenue, roughly 100 metres from Uganda's parliament building. CCTV footage of the initial attack reportedly showed a single suicide bomber detonating an Improvised Explosive Device (IED),  the second blast involved two perpetrators on motorcycles, allegedly disguised as boda boda riders (motorcycle taxis). Both the explosions resulted in casualties, as well as damage to nearby buildings and vehicles within the blast radius. A fourth assailant was pursued by counter-terrorism police, who managed to detain the suspected suicide bomber and recover an unexploded IED in his possession, a second device was also recovered from his home in Nansana, west of central Kampala. The explosions triggered a large-scale police and emergency service response, and prompted the evacuation of nearby buildings, including parliament, as a safety precaution. The Ugandan police described the explosions as a coordinated attack by extremists and were quick to blame "Allied Democratic Forces (ADF) linked radicalised groups". The Islamic State (IS) subsequently claimed responsibility for the blasts via the group's Amaq News Agency on an affiliated Telegram account. In the wake of the attack, Ugandan President Yoweri Museveni urged the public to "maintain vigilance" and said that authorities were working with neighbouring countries "to deal with those operating from outside [Uganda]." The leaders of the African Union (AU) and the Intergovernmental Authority on Development (IGAD) condemned the twin bombings.
SOLACE GLOBAL COMMENT
The twin bombings in Kampala were the latest attacks in a series of similar incidents in recent weeks, all of which have either been claimed by IS or blamed on ADF militants. The recent spate of bombings in Uganda began on 8 October, when one police officer was killed in a blast at a police station in a suburb of Kampala. IS claimed responsibility for the attack, marking the first time the group had carried out an attack in Uganda. Later on 23 October, one person was killed when an IED, left in a shopping bag, detonated in a restaurant on the outskirts of Kampala. Days later, several people were injured in a suicide bomb attack targeting a bus travelling from Kampala towards Western Uganda. The Islamic State group claimed responsibility for the restaurant blast, with Ugandan police suggesting the bus bomber was on a list of wanted ADF members. The ADF is an Islamist militant group that originated in Uganda and mostly operates out of neighbouring Democratic Republic of the Congo. The group swore allegiance to the so-called Islamic State (IS) in 2019 and has since been known as Islamic State Central African Province (ISCAP), or ISIS-DRC, among other names. The ADF has long been opposed to the rule of longtime President Museveni, a key US security ally that has committed troops to combat Al-Shabaab in Somalia, among other regional counter terrorism efforts. Tuesday's attack in Kampala represents an increasingly sophisticated threat and was likely an attempt by ADF/ISCAP to demonstrate its strength and capability to carry out coordinated, mass casualty  attacks in the Ugandan capital. Given the group's Ugandan roots and local grievances, as well as the backing and training of the transnational IS group, further attacks in Kampala and other areas are highly likely in the near-term.
SOLACE GLOBAL ADVICE
Review the local security situation and  your  current security measures.
Have a robust contingency plan in place, including for moving to hibernation points ,emergency evacuations  and communications should the security situation deteriorate.
Exercise increased situational awareness and vigilance; report any suspicious activity to the Ugandan security forces.
Avoid large public gatherings, government buildings, security checkpoints, and busy urban areas where possible.
Be alert to the possibility of follow-up/secondary attacks following explosions.
Adhere to the advice or instructions provided by authorities.
Maintain a robust communications schedule and ensure that a trusted person is aware of your current location
Anticipate localised disruptions to travel in areas affected by large-scale attacks.
If caught in an attack, individuals are advised to follow the advice of RUN, HIDE, TELL.
Solace Global remains available to provide the full range of Travel Risk Management services to clients. Solace Global is also able to provide comprehensive crisis management, response, and evacuation services. For further details please contact 
+44 (0) 1202 308 810
 or 
email us
.