Alert+ – Haiti President Killed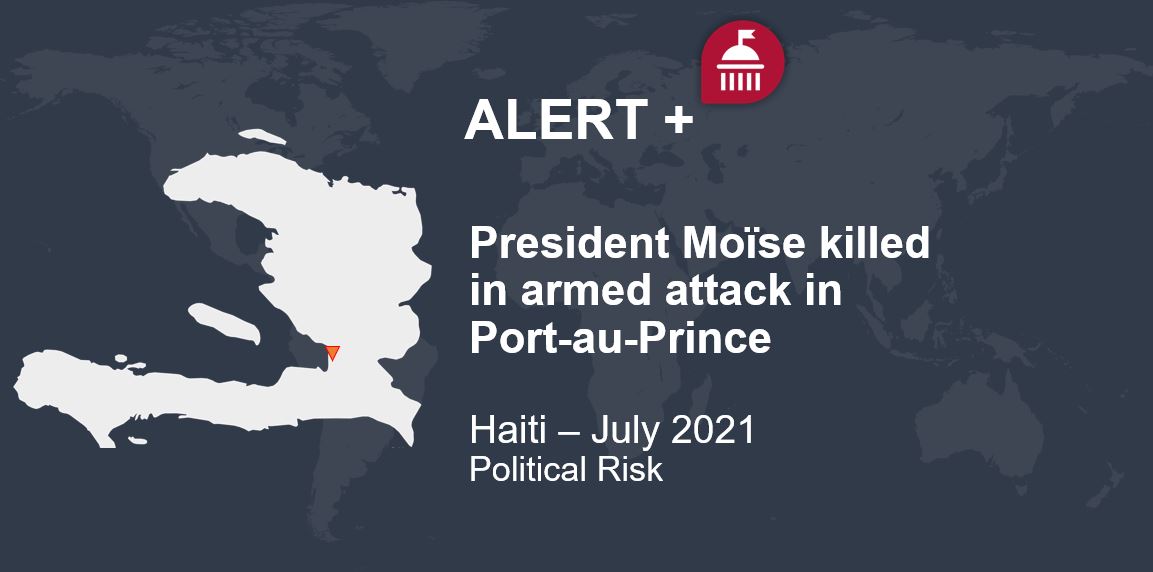 President Moïse killed in armed attack in Port-au-Prince
---
SITUATION SUMMARY
In the early morning hours of 7 July, Haiti's President Jovenel Moïse was shot and killed by unidentified gunmen at his private residence in the Pelerin 5 district of Pétion-Ville, an affluent suburb of Port-au-Prince. First Lady Martine Moïse also sustained critical injuries and is receiving medical treatment in Florida. A police operation following the killing resulted in the deaths of at least four suspects and two detained. A senior police official indicated other suspects remained at large. There was no immediate comment on the suspects' identity or possible affiliations. Preliminary reports indicate the late president's killers were disguised as US Drug Enforcement Administration (DEA) agents, spoke English and Spanish, and carried high-powered weapons. Haiti's ambassador to the United States, Bocchit Edmond, said he believed the killing was the work of "professional mercenaries" and later said they were disguised as agents. The assassination was confirmed by Prime Minister Claude Joseph, who has subsequently assumed the role of Acting President. In the wake of Moïse's assassination, PM Joseph declared a nationwide "state of siege" under Article 149 of the Constitution of Haiti. The declaration grants extended executive powers and allows the military to be deployed for policing roles. Toussaint Louverture International Airport, Haiti's main airport, was closed by the authorities in the immediate aftermath of the assassination. Several inbound and outbound flights were cancelled, whilst others were diverted to nearby countries. Authorities in the neighbouring Dominican Republic also announced the closure of the country's land border with Haiti until further notice. Additional military assets were deployed to the border as a precautionary measure to strengthen the border's security in anticipation of civil unrest in Haiti.
SOLACE GLOBAL COMMENT
---
Mr Joseph also condemned the attack as a "hateful, inhumane and barbaric act.", and called on the United Nations to hold a Security Council meeting to help shed light on the situation. A UN Security Council is expected to hold a closed-door meeting on 8 July. The security situation is likely to deteriorate in the coming days and weeks. The reports of the assailants speaking Spanish and English as well as being disguised as DEA agents has led to many alleging that foreign individuals or governments were involved in the attack. As such, anti-foreigner rhetoric and incidents may occur. Further attacks on members of the Government of Haiti cannot be ruled out. Initial statements from the United States Embassy in Haiti suggest that the assassination of the President was conducted by a group of "well-coordinated" and "highly trained" gunmen. Though the motivation behind the assassination is not known at this time, the Acting President is considered a political ally of the deceased President and may be targeted in a future attack. Moïse's time in office has been marked by political instability which was fuelled by corruption allegations and controversial changes to Haiti's constitution to allow him to run for consecutive terms in office. Large-scale, violent and disruptive protests calling for a different leader and fresh elections have been underway since 2018. In February 2021, the President's refusal to leave office led to a constitutional crisis and an escalation in violent anti-government unrest, with 31 deaths and 300 injuries. The fragile political situation has directly affected the wider security environment. It has also served as a trigger for a rise in criminal activities, including gang violence, murders and armed robberies. Instances of kidnapping for ransom have also dramatically risen over the past few months. Additionally, should there be a delay in holding fresh elections, there is a high likelihood of additional scenes of civil unrest throughout Haiti, particularly in the capital of Port-au-Prince.
SOLACE GLOBAL ADVICE
---
Travellers are advised to defer all travel to Haiti unless business critical in the coming days due to the volatile security environment and uncertain political situation.
Individuals in Haiti are advised to shelter in place until further notice, review security and evacuation plans should the security situation deteriorate further.
Individuals in-country are advised to keep abreast of the situation, monitor for the latest news for situational updates.
A nationwide state of siege has been implemented until further notice. During this time, security forces have enhanced measures to enforce the rule of law. Strictly follow all instructions issued by security personnel.
Heightened security measures in major urban centres, notably in the capital Port-au-Prince, are certain in the coming days and weeks. Those in-country should ensure they abide by all restrictions, curfews and road closures.
There is the potential for spontaneous protests that may escalate into violent and widespread civil unrest. Large gatherings can also escalate into violence with little or no warning. If in the area of a spontaneous protest, leave the area immediately and seek a secure location.
Travel risk managers are advised to ensure that all travellers in country are accounted for and check-in regularly.
​Travellers are also advised to use travel-tracking technology with an intelligence feed. This should enable a traveller to be alerted of any security updates within their vicinity and to update others of their movements in case of an emergency.​​
For more information, please email risk@localhost or give us a call on +44 (0) 1202 308 810.