Alert Plus – Israel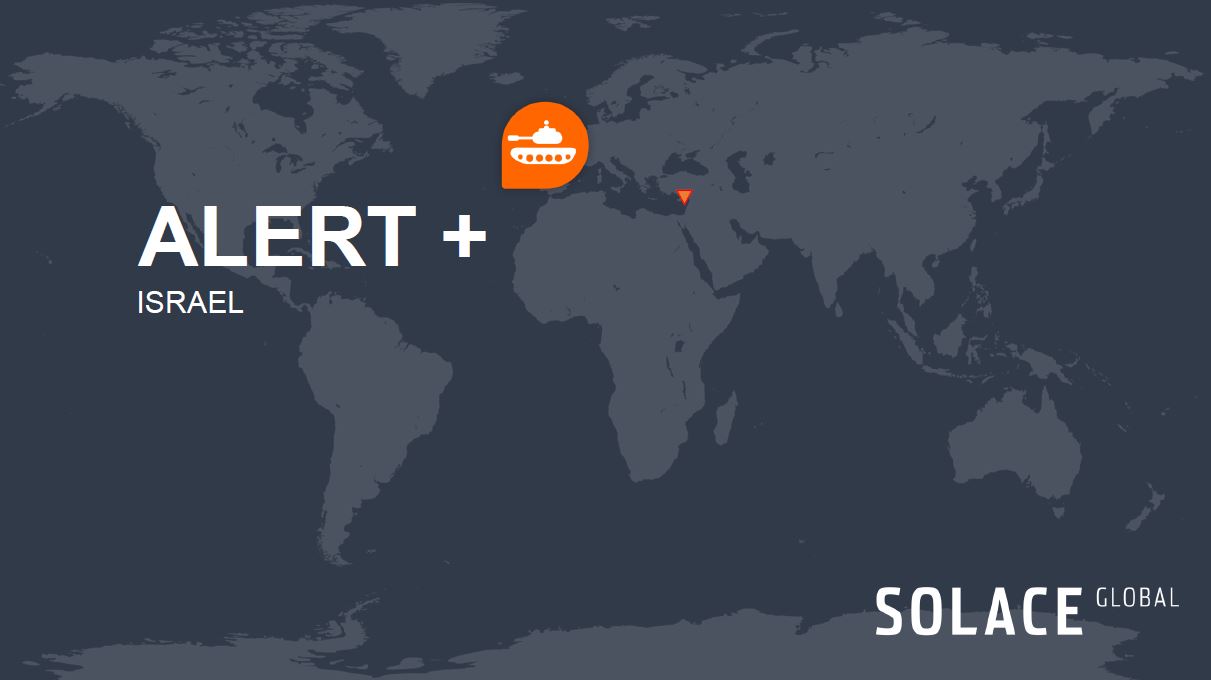 Tensions Escalate Following Al Aqsa Protests – Israel – 11 May 2021
SITUATION SUMMARY 
In the past 24 hours, Israel has launched a series of deadly overnight airstrikes against targets in Gaza, killing at least 26 Palestinians, including nine children. The airstrikes were ordered in response to a barrage of rocket attacks launched by Palestinian militants from the Gaza Strip on 10 May. According to local reports, around 25 people were being treated for injuries following the rocket attacks. The escalation between Israel and Palestinian militant groups, including Hamas, comes after days of violent clashes in Jerusalem and other areas that have seen hundreds of Palestinian protesters injured. Indeed, Hamas had previously warned of aggression in retaliation to the brutal suppression of Palestinian protesters at Islamic religious sites in Jerusalem's Old City. Some of these clashes took place on Islam's holy night of Laylat al-Qadr around the Al Aqsa mosque, Islam's third holiest site. The protests initially started whilst the outcome of a legal case, which could see Palestinian families at the risk of expulsion from their homes in East Jerusalem, remains unresolved. Palestinian rockets have also reportedly targeted Jerusalem, with  Prime Minister Benjamin Netanyahu stating Hamas had "crossed a red line", and that "Israel will respond with great force." In total, more than 200 rockets have been fired at Israel. The vast majority of rockets fired at Israel have been intercepted by the country's Iron Dome missile defence system. However, there have been reports of rockets landing in residential neighbourhoods in Israel, notably Ashdod and Ashkelon, both south of Tel Aviv near the Gaza border. The IDF have responded to the rocket attacks by launching dozens of targeted air strikes on the Gaza Strip. These strikes have focused on Hamas controlled areas and on known Hamas and militant safehouses. However, the strikes have also resulted in a number of civilian casualties. At the time of writing, according to officials in Gaza, at least 26 Palestinians had been killed, including nine children. It is also being reported that two people had died in Israel following the rocket strikes.
SOLACE GLOBAL COMMENT 
The main trigger for the escalation appears to be the clashes between police and Arab protesters in the al-Asqa mosque compound. Israeli security personnel had moved in to disperse crowds and protesters. The police personnel employed a number of heavy handed crowd control methods, including the use of tear gas and stung grenades, as well as the reported use of rubber bullets. The clashes resulted in 330 Palestinians and at least 21 police officers being injured. The conflict then quickly expanded seeing rockets and airstrikes, as well as fatalities. Despite the immediate trigger, the main underlying cause of the unrest and violence continues to be the unresolved conflict between Jews and Arabs in Israel and the Palestine State. The current tensions have been increased in recent weeks over the eviction of Arabs from East Jerusalem. This combined with the heavy-handed action by Israeli police during Ramadan only served to inflame the situation. The violence has coincided with the ongoing precariousness in Israeli politics. Prime Minister Netanyahu's position appears under threat as coalition talks progress between his rivals, with it looking increasingly likely that the prime minister may be replaced in the coming months. Further rocket attacks are likely to continue, with at least 70 reportedly being fired around lunchtime on 11 May. Additionally, Israeli airstrikes are also likely to continue, targeting known Hamas and other militant locations in Gaza. At this time, it remains highly likely that Israeli missile defences will continue to intercept the vast majority of air strikes. Unrest is also likely to continue, especially in East Jerusalem where the eviction of Arabs from the Sheikh Jarrah neighbourhood remains unresolved. Israelis claim to own the property on which 70 mostly refugee Palestinian families have lived for decades.
SOLACE GLOBAL ADVICE
Heightened tensions are highly likely to persist in the short-term. Expect further unrest in the region, especially in Jerusalem and the West Bank. All protest action should be avoided as clashes are almost certain.
Further attacks by Palestinian militants and Israeli Defence Forces (IDF) are almost certain.
Travellers should, therefore, avoid all non-essential travel to the Gaza Strip.
While the risk of casualties or damage to buildings in Israel is mitigated by the country's Iron Dome air defence system, the Hamas/Palestinian militant tactic of mass barrages can result in rockets occasionally striking targets in Israel. Settlements close to the border with Gaza are most likely to be impacted.
Adhere to all instructions issued by the authorities and follow any and all warnings regarding any further possible rocket attacks.
If rocket warning sirens are sounded, seek secure shelter immediately, ideally in a purpose-built shelter. If in a building when sirens are sounded, head to a secure room, stairwell or inner room and close all windows and doors. Stay in shelter for ten minutes after the siren ends.
Individuals in the country or with interests in the wider region should keep up to date with the latest developments.
Travellers in Israel or Palestine should avoid discussing the sensitive topics/developments in public.
Look to reconfirm itineraries and expect possible travel disruption as a result of the unrest, rocket attacks and Israeli airstrikes.
Israeli and Palestinian embassies and consulates are likely to see associated unrest in the coming days and weeks. This should be avoided due to the risk of violence and localised disruptions.
Please note, this information is accurate as of 11.05.2021. Solace are continuing to monitor the situation, if you require support or advice, please email risk@localhost.