Alert Plus – Haiti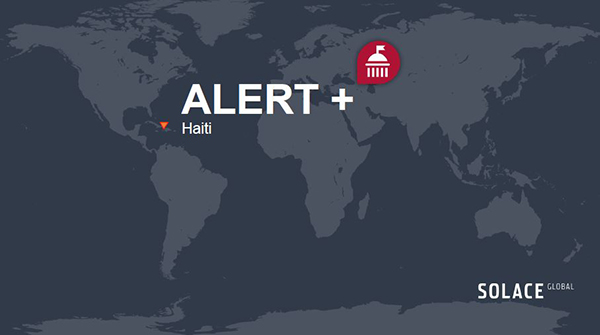 Political Crisis Sparks Violent Unrest in Port-au-Prince 
Haiti – 10 February 2021 – Political and Civil Unrest Risk 
SITUATION SUMMARY 
Haitian President Jovenel Moise has claimed that a plot to assassinate him and stage a coup d'état has been foiled by authorities. In a national address on the morning of 7 February, President Moise announced that 23 people had been arrested, including a Supreme Court judge and a senior police official, amid ongoing investigations into the alleged coup. He provided no initial details or evidence relating to the plot, which purportedly began in November 2020. ​
It is understood that as Moise's mandate was set to reach the date that opposition leaders deemed the end of his term, they moved to select Justice Mecene Jean-Louis, the most senior member of Haiti's Supreme Court, as the transitional president. However, in response, the Supreme Court was reported to have been surrounded by police intending to detain the judge. Jean-Louis has since been retired of his post via an executive order signed by the president, alongside two other Supreme Court Justices who were selected by the opposition. ​
The political developments have further intensified the continued unrest facing the capital, Port-au-Prince. As a result, violent clashes occurred across the capital, with security forces deploying tear gas and firing live ammunition at anti-government demonstrators.
The announcement came amid an escalation of violent unrest in Port-au-Prince sparked by President Moise's refusal to leave office on 7 February. The president has repeatedly insisted that his five-year term ends in February 2022, on the grounds that an interim government held the office in his first year. His claim has since been supported by the Biden administration in the US and the Organization of American States. This has been disputed by Haitian opposition factions, activist groups and much of the Haitian population, triggering a constitutional crisis.​
The unrest saw business operations and transportation shut down or significantly impacted in the city on Monday, 8 February. However, as of yet, there have been no formal calls for widespread strike action.​
Of further note, instances of heavy gunfire occurred in the Champ de Mars area, wounding and hospitalising two reporters. The incident saw local journalists rally to condemn the incident and call for blood donations. Despite this, the Haitian high command has disputed the incident by rejecting allegations that Haitian soldiers were culpable. ​
​SOLACE GLOBAL COMMENT 
The political crisis in Haiti has intensified against a backdrop of rampant organized crime and an alarming epidemic of kidnapping for ransom. According to reports, nearly 200 kidnappings occurred last year, up from 39 cases in 2019. ​
The spike is both a symptom of the political crisis facing Haiti today and a factor driving it. The state has assisted the rise of Haiti's powerful criminal actors both directly, by providing impunity and support to gangs in exchange for political favours, and indirectly, through its endemic corruption and ineffectiveness in the face of crippling economic hardship.  ​
The uncontrolled crime environment also presents a significant threat to the possibility of conducting free, fair and safe elections, while already constituting a key factor fuelling steep levels of voter abstention (less than ten percent of voters supported Moise in 2016).  ​
Opposition critics view the dispute as a continuation of Moise's efforts to establish a more autocratic presidency, an argument compounded by his decision to postpone legislative elections previously scheduled for October 2019 and instead govern by decree. 
At the time, Moise blamed parliament itself for the postponement, however, critics have accused him of attempting to hijack the political process. Moise also intends to hold a referendum on the country's constitution during his final year, a plan that has been criticised as not politically viable and arguably unconstitutional.  ​
On top of this, on 26 November 2020, he issued a decree ordering the formation of a national intelligence agency that supersedes existing law enforcement and reports to the president, alongside the funding of more robust surveillance and public security capabilities. If enacted, the legislation would divert huge sums of public funds away from the pressing socio-economic needs of Haitians, while attempting to establish a markedly authoritarian law enforcement mechanism.  ​
A sustained period of escalating civil unrest and a further deterioration of an already fragile and dangerous security context should be anticipated in Haiti. Demonstrators believe the president has no mandate to remain in office, a position largely supported by a desperate and disappointed Haitian electorate. As a result, it is highly likely that there will be continued violent opposition to Moise's presidency.​
SOLACE GLOBAL ADVICE 
Demonstrations are currently widespread and may lead to a significant 

deterioration of the security environment. 

​

Large gatherings can escalate into violence with little or no warning. If 

in the area of a spontaneous protest, leave the area immediately and 

seek a secure location. 

​

Heightened security measures in major urban centres, notably in the 

capital Port-au-Prince, are absolutely certain in the coming days and 

weeks. 

​

Travellers in Haiti are advised to follow all instructions from the local 

authorities. 

​

Security forces in Haiti are known to use aggressive methods to 

disperse protests. This poses an incidental risk to bystanders. 

​

Be prepared for disruption to travel and services in the near future and 

plan accordingly. 

​

Allow for additional time when travelling.

​

Be prepared to use alternative routes to bypass unrest.

Individuals in-country are advised to keep abreast of the situation, 

monitor for the latest news for situational updates. 

​

Ensure contingency measures are in place should the security situation 

deteriorate further. This includes contingency and evacuation plans. 

​

Travellers are also advised to use travel-tracking technology with an 

intelligence feed. This should enable a traveller to be alerted of any 

security updates within their vicinity and to update others of their 

movements in case of an emergency

.​

​

For more information, please email risk@localhost or give us a 

call on +44 (0) 1202 308 810. 

​
Please contact us on risk@localhost or on +44 (0) 1202 308 810 if you require advice or assistance.