Alert Plus – Vienna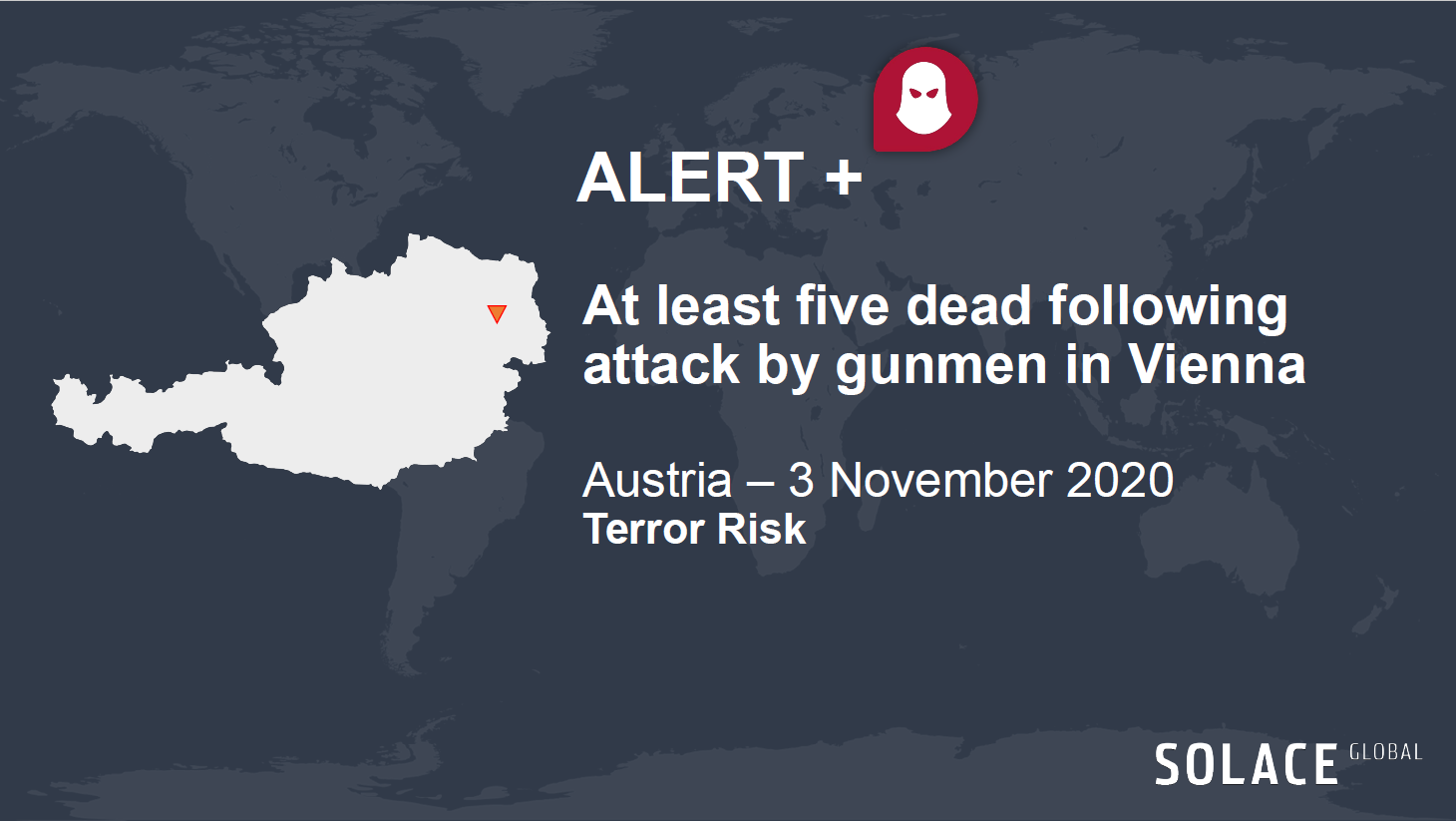 At least five dead following attack by gunmen in Vienna
Austria – 3 November 2020 – Terror Risk
SITUATION SUMMARY
Several gunmen carrying assault rifles have opened fire in a number of locations in central Vienna in an apparent complex terror attack that has left at least four civilians dead and a further 15 seriously wounded. The shooting began on Seitenstettengasse street, near the city's main Synagogue. One of the gunmen, who was described as having also been wearing a fake suicide vest, was shot dead by security personnel. It is currently believed that there may be a number of further gunmen still at large.  The deceased gunman was described by the Austrian authorities as being a sympathiser of the so-called Islamic State who had tried to travel to Syria in the past. Despite the police stating that the incident began near the Seitenstettengasse synagogue, it is unclear whether the Vienna's Jewish community was directly targeted at this time. Gunfire was also reported throughout the Austrian capital, in the vicinity of Fleischmarkt, Bauermarkt, Graben, Morzinplatz, Salzgries, Schwedenplatz and Stadtpark. The attack took place whilst Vienna was enjoying the last evening before a nationwide COVID-19 curfew will effectively shut the city and wider country down for the rest of the month. Bars and restaurants were busy with people taking the opportunity to go out for the last time before December. In the aftermath of the attack, on 3 November, the government urged residents to remain in their homes as they believed that a number of gunmen remained at large. Police have conducted a number of house-to-house raids to try and find the gunmen or accomplices, with several people already being arrested in connection to the attack. Public transport is currently not stopping in the city's historic 1st District, where the focus of the attack took place, schools across the city are closed and it is highly likely that most offices across the city, if they had not closed with COVID safety measures, will be shut again.
SOLACE GLOBAL COMMENT
The attack bears the hallmarks of a complex attack perpetrated by an Islamist extremist group, similar in nature to the 2008 Mumbai attacks and the 2015 Paris attacks. In such attacks, militants seek to inflict maximum loss of life and are highly unlikely to surrender to authorities. Previous similar attacks have only come to an official end when all gunmen and associated accomplices have been arrested or shot. Whilst the suicide vest worn by the attacker who was killed was fake, previous similar attacks have seen a number of car bombs and IEDs scattered across the city either as part of the same attack or a secondary follow up, and, as such, this will likely be one reason that the authorities are urging Viennese residents to stay at home, alongside the disclosed fact that a number of well-armed attackers are still on the loose. Attacks are rare in Austria, especially when compared with other European countries, such as France, Germany and the United Kingdom, that have seen numerous attacks in past years. Indeed Austria is seen as one of the safest European countries to visit and reside in, with Vienna regularly coming top of rankings for best and safest cities globally to live in. Due to its former control of parts of the Balkans as Austria-Hungary, the country has one of Western Europe's longest established minority Muslim populations. The last major terror attack in Vienna was in 1985, when Arab terrorists attacked Israeli airline El Al's ticket counter and check-in desk at Vienna Airport, killing two and injuring 39 others. More recently in January 2017, the Viennese police stated they had foiled an Islamist attack, and in 2014, a 14 old boy was convicted on charges of plotting to blow up  Vienna's Westbanhof transport hub. As such, despite the lack of attacks in recent years, Austria, like other European nations, has struggled with the rise in Islamic extremism and radicalisation. Further attacks cannot be ruled out and caution is advised in the coming days until all suspects are apprehended.
SOLACE GLOBAL ADVICE
Employ caution whilst in the city and wider country, Be aware of your surroundings whilst in proximity to religious sites (such as synagogues) or iconic (such as national monuments) buildings.
Comply with all instructions issued by security personnel and the authorities.
Remain indoors in a safe place until you are informed it is safe to venture outside
Expect additional security and an increased police presence throughout Austria in the coming days and weeks.
If you are still in the city centre, then find a safe and secure way back to your residence, bear in mind transportation to and from the 1st district is still disrupted.
Assume that further gunmen remain at large.
Employ caution around mosques and other buildings linked to Islam, such as Arabic schools, due to the risk of reprisal attacks by other extremist groups.
Remember that whilst there is an ongoing security incident, new COVID-19 restrictions have come into force nationwide and must be adhered to.
If caught up in further terror attacks in the coming hours and days always use the UK terror attack guidance of Run, Hide, Tell.
Whilst recent European terror attacks have seen lone-wolf style attacks, the attack demonstrates that groups are still capable and willing to launch large scale complex attacks, this should be considered whilst carrying out emergency planning.