Alert Plus – 81 killed in ongoing protests over murdered musician in Ethiopia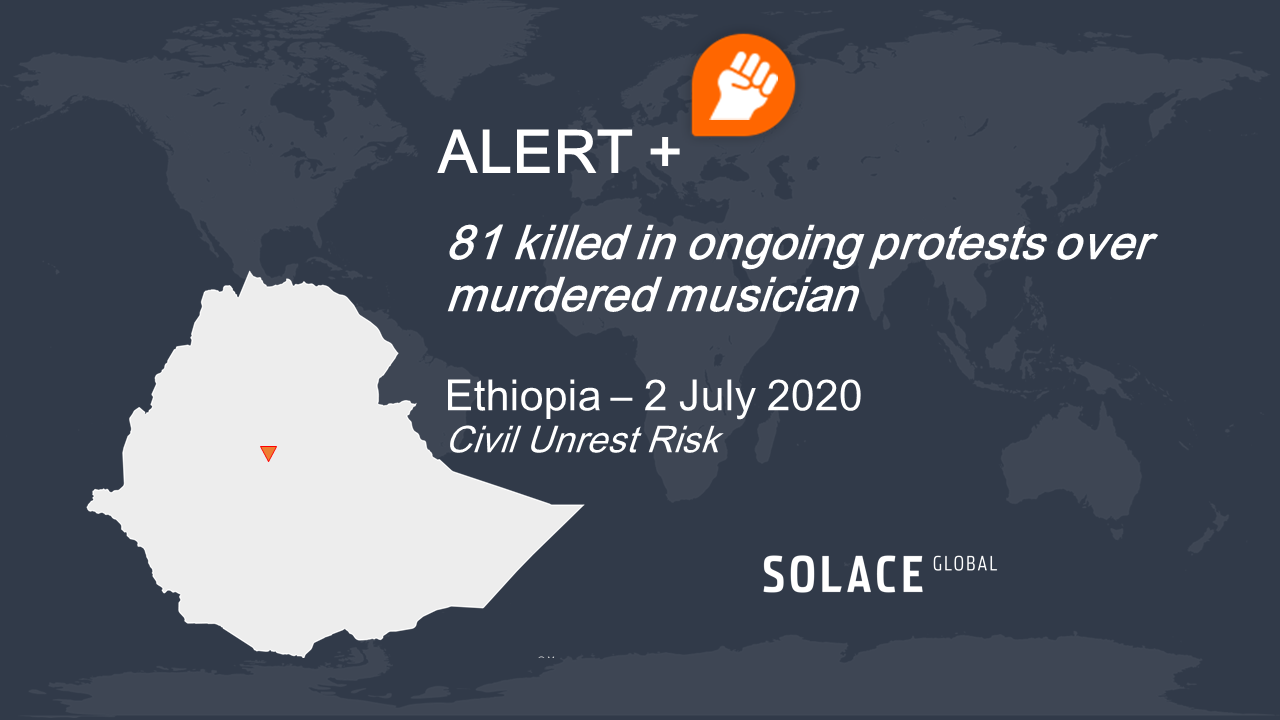 SITUATION SUMMARY
At least 81 people have been killed in a wave of unrest that erupted in Addis Ababa and the surrounding Oromia region following the murder of a prominent musician of the Oromo ethnic group. The musician, Haacaalu Hundeessa, died on Monday in a targeted gun attack in Addis Ababa. On Tuesday, protests erupted in Ethiopia's capital and in the Oromia state, as thousands of people took to the streets to express their anger over his death. In Addis Ababa, demonstrators rallied in the streets, blocking roads, chanting slogans and brandishing Oromia flags. The protests resulted in clashes as police fired live ammunition to disperse large crowds. Clashes between Oromo activists and other ethnic groups were also reported. Protests spread to other cities and towns in neighbouring Oromia region. Violent incidents were reported in Adama, Chiro, Dera, Shashemene, Jimma, and Nekemte. On Wednesday, violence continued for the second consecutive day. Clashes reportedly broke out after a group led by Jawar Mohammed, a prominent Oromo leader and founder of satellite television channel Oromia Media Network (OMN), intercepted security officials transporting the singer's body to Ambo and attempted to return it to Addis Ababa. Jawar Mohammed as well as Oromo Federalist Coalition (OFC) leader, Bekele Gerba, were among 35 people arrested during these clashes. Several injuries and one fatality were also reported. Details remain scarce as, in a move to curb the protests from spreading, authorities shut down internet and telecommunication services. The Ethiopian Military has been deployed nationwide due to the risk of continued protests over the coming days. At the time of writing, clashes are understood to be ongoing as a funeral service is held for Haacaalu Hundeessa.
SOLACE GLOBAL COMMENT
Ethiopia is a multi-ethnic nation that counts more than 80 diverse groups and over 200 dialects. Although these tribes have been coexisting for centuries, inter-ethnic conflict and violence are deep-rooted and clashes have occurred for decades. Indeed, over the years, internal conflicts and the rise in communal violence have led to almost 3 million people becoming internally displaced. The country's internal displacement figures are also the highest in Sub-Saharan Africa according to the IDMC. The Oromo, the country's largest ethnic group, which makes up a third of the population, have long protested and claimed to be marginalised. In 2018, Oromo-led anti-government protests resulted in the resignation of Ethiopia's former Prime Minister and Abiy Ahmed's subsequent rise to power. Even though the country is now under the administration of the first Oromo leader, Prime Minister Abiy Ahmed is still facing continuous ethnic tension and intra-state disputes across this diverse country. In November 2019, 78 people were killed across the Oromia region in a chaotic wave of violence that began as anti-government protests but devolved into clashes fuelled by ethnicity and religion. Haacaaluu Hundeessaa, a former political prisoner, was known for his resistance songs that focused on the rights of the Oromo ethnic group. Days before his assassination, he reportedly spoke on the Oromia Media Network, where he criticised the government and denounced the unlawful detention of Oromo activists. He was also the symbol of the 2018 anti-government protests that resulted in Hailemariam Desalegn's resignation. His assassination comes at a time of rising tensions due to COVID-19 restrictions and the government's decision to postpone the country's planned August parliamentary election. In the past, violence and unrest have escalated after the murder of Oromo activists and leaders. As such, there are mounting concerns that such unrest may now begin impacting the country again and, possibly, develop into ethnic clashes.
SOLACE GLOBAL ADVICE
Be aware that demonstrations are currently widespread and may lead to a significant deterioration in the security environment.
Large gatherings can escalate into violence with little or no warning. As such, avoid all gatherings or immediately vacate the area if caught in unrest.
Be aware that it is likely security forces will continue to use aggressive measures against demonstrators, which has an incidental risk to bystanders.
Additionally, ensure contingency measures are in place in case of a sustained period of instability occurs or if violence escalates. This includes evacuation plans.
Allow for additional time when conducting journeys, protest action and the increased police presence may result in closed or blocked roads
If travelling to or currently in Ethiopia, ensure that you monitor for the latest news for the progress of protests as well as monitoring any political developments.
Be aware of the increased security presence, notably in the capital Addis Ababa and throughout the Oromo region. Adhere to any and all instructions issued by the security forces; opposition may result in a forceful response.
Travellers are also advised to use travel-tracking technology with an intelligence feed. This should enable a traveller to be alerted of any security updates within their vicinity and to update others of their movements in case of an emergency.
Be prepared for periods of limited access to internet and telecommunication services as access has been, and is likely to continue to be, blocked