Opposition Leader Calls for Protests in the DRC Following Courts Decision to Reject Appeal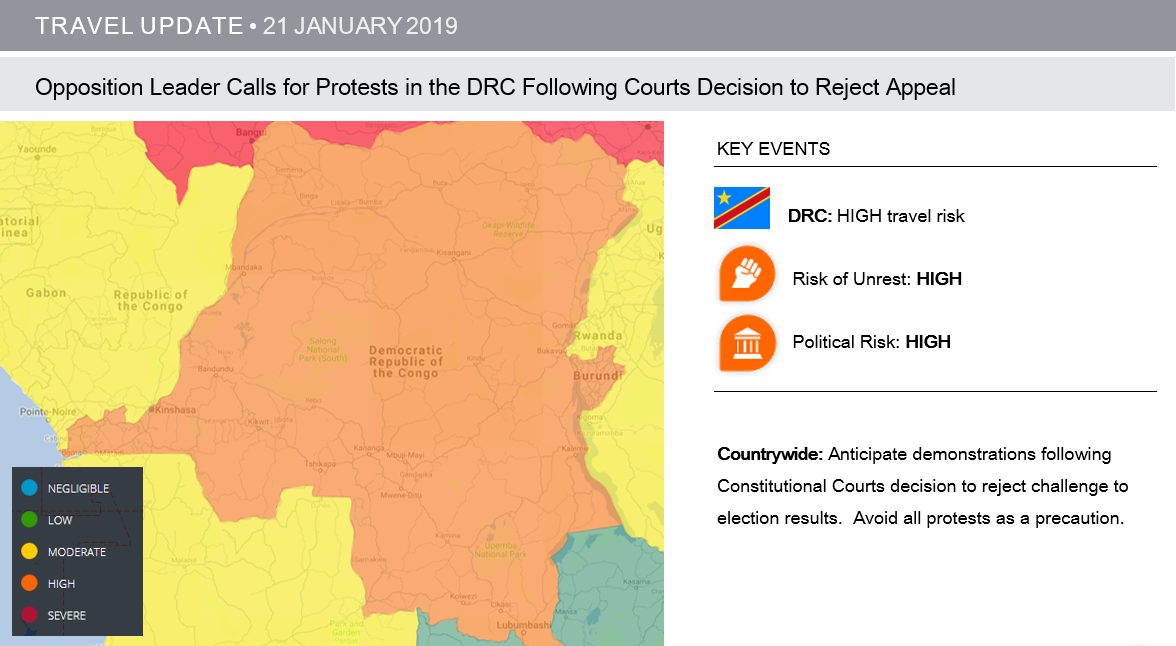 Martin Fayulu, leader of the Engagement for Citizenship and Development party in the Democratic Republic of the Congo (DRC), has called for campaign of civil disobedience following the Constitutional Courts decision to reject his appeal against the election results on 20 January.
As a result Felix Tshisekedi,  of the Union for Democracy and Social Progress party, could be inaugurated as the new President of the DRC as soon as Tuesday 22 January.
The 30 December 2018 Presidential election has been marred with accusations of vote rigging and fraud following an announcement by the Catholic Church election observers that Martin Fayulu received 60% of the presidential vote and should have been announced as President-elect.  These allegations have been backed-up by leaked data from the electoral commission.
Further allegations have suggested that current President Felix Kabila, who has ruled the DRC since 2001, struck a deal with Tshisekedi allowing him the maintain control of the military and several key government ministries.
Polling also did not take place in several key areas due to instability and the ongoing Ebola Crisis.  Polling indicated that all areas would have voted overwhelming for Fayulu's Engagement for Citizenship and Development party held.  Elections have been postponed in Beni, Butembo (North Kivu province) and Yumbi (Bandundu province) till March.  The close nature of the results announced by the Independent National Electoral Commission (CENI) between Fayulu and Tshisekedi suggest that voting in these areas could have had an impact on the final result – further excluding a large percentage of people from the democratic process. Key opposition figures in the DRC, who were excluded from running in the Presidential election but boast huge regional support, have come out and backed Fayulu's calls for protests.  Heavyweight politicians  Moise Katumbi and Jean Pierre Bemba who backed the Fayulu led-opposition have called on their supporters to join the campaign of civil disobedience raising fears of anti-government demonstrations erupting throughout the DRC in the coming days.
Solace Global are anticipating widespread unrest in the coming days as citizens of the DRC respond to the courts announcement. Protests are likely to be met by a forceful response by security forces who have used live ammunition against demonstrators during the election period.  Key protest flash points will include the capital Kinshasa as well as opposition held cities including Lubumbashi, Mbuji-Mayi and Kananga.  We are also expecting widespread unrest in Beni and Butembo due to the towns exclusion from the voting process which will create further challenges as international organisations respond to the current Ebola Crisis.
Travel Advice
In-country staff should minimise all movement in the coming days due to the credible threat posed by clashes between demonstrators and security forces.  Staff should remain in a secure, gated location, away from potential protest flashpoints.
Review evacuation plans to ensure they are up to date, realistic and can be implemented at short notice. Consider how you will rapidly assemble staff in a central and secure location especially if they are working in remote locations.
Travellers should stay up to date with the latest information, especially regarding political demonstrations. Consult local media, in country contacts and Solace Global Alerts for details of any planned or ongoing demonstrations in your area.
Periodically test all communication strategies (multiple communication means will be required including satellite phone) and ensure you have the capability to quickly communicate with staff on the ground.  Internet providers and telephone networks are likely to be intermittently disabled in the coming days.
Significant traffic disruption is likely near protest flashpoints, on major routes and around key transport and business hubs. Plan routes circumventing areas prone to unrest, alternatively allow additional time if travel through affected areas is unavoidable.
Anticipate heightened security in urban centres, at protest locations and in the vicinity of government buildings. Exercise vigilance and if people start gathering in a location; leave the area immediately and return to a safe location.
Always carry personal identification and travel documentation in case you need to transit through a checkpoint.